Poldark's Jack Farthing: 'George has demons, but you see a new side to him'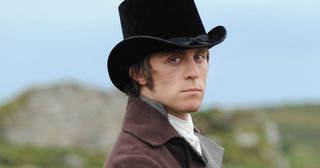 (Image credit: BBC/Mike Alsford)
George Warleggan has been Poldark's nemesis since school days, but star Jack Farthing says viewers will see a new side to him this series. Although, not entirely new...
When Ross Poldark was acquitted of murdering Matthew Warleggan on Sunday, there were tears of relief in the courtroom and cheers of joy in living rooms up and down the country.
But one man wasn't smiling – Ross's arch enemy George Warleggan, played by Jack Farthing, 30. The wealthy businessman did everything in his power to manipulate a verdict that would see Ross (Aidan Turner) hang.
Having failed to get a noose around the neck of his nemesis, the scheming banker comes up with another plan to destroy Ross – by ruining him financially - in Sunday's Poldark on BBC1.
Why does George resent Ross so much? "It says in the books that they haven't seen eye to eye since they were at school, but it never explicitly explains why and it is nice it is not pinned down to one event. If it was, you would get bored of it, whereas this way it can constantly develop and grow."
How did George's declaration of love for Elizabeth Poldark – Ross's one-time sweetheart – affect the pair's already strained relationship? "It was very brave of George to tell Elizabeth he had feelings for her. I think he genuinely does love her, but should she develop feelings for him then that would be another blow for Ross. I do think his feelings are true, though, and it is quite surprising to see him have real warmth and affection for someone."
Can you tell us a bit about George's character? "My aim from the beginning was not to see George as the villain of the piece, although that is how a lot of people view him. And he definitely does some villainous things!
"But for me, he is a three-dimensional human being with lots of demons, insecurities, anger and resentment, which sometimes bubble out into villainy. But you do see new sides to him this series."
We see George taking up boxing in case he needs to square up to Ross. How did you find that? "George decides to present himself as a different kind of man, not all curlers and frills, so he decides to build himself up and starts training. Eighteenth-century boxing is very different to modern boxing, it's all sort of long arm and, at a distance, it looks quite funny."
George's lawyer and right-hand man Tankard (Sebastian Armesto) helps him to expand his power. How was it working closely alongside Seb? "George is different with different people and with Tankard he is his most malevolent, calculated and malicious self. I loved doing those scenes with Seb"
So what is it like being the most hated man on the show? "Nobody talks to me on set and I am constantly fighting with Aidan... No, I am joking! We all get on really well and really enjoy each other's company."
What's the reaction been like from viewers? "Amazing. People only ever come up and say how much they like the show. There are a lot who say how much they love to hate George but, even if they hate him, I hope they also understand his motives."
Get the What to Watch Newsletter
The latest updates, reviews and unmissable series to watch and more!