James Nesbitt on Cold Feet return: 'We all had fears and insecurities about bringing the show back!'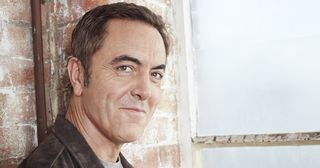 (Image credit: ITV)
After 13 years away, Cold Feet makes its long-awaited return to our screens on Monday night. This time round, the five friends from Manchester are older - but are they any wiser? James Nesbitt, who reprises his role as the show's Adam Williams, reveals all...
Following the lives of six 30-somethings in Manchester, comedy drama Cold Feet became a huge hit in the Nineties as the trials and tribulations of friends Adam, Rachel, David, Karen, Pete and Jenny became must-see TV.
Cold Feet ended in 2003 after five series and, since then, fans have been calling for the show's return. Now, after a 13-year wait, this week, they finally get their wish as Cold Feet is back!
Here, James Nesbitt talks about reuniting with old friends, what Adam's been up to all these years and why fans are sure to take Cold Feet to their hearts all over again...
James, how did you feel about bringing Cold Feet back after 13 years? "We all had fears and insecurities about bringing the show back because it made such an impact first time round. But it felt like it was time to revisit it and stepping back into these characters has been very easy."
What was it like reuniting with John Thomson, Hermione Norris, Faye Ripley and Robert Bathurst? "I think what astonished us most was the fact that I haven't seen a lot of these guys for 10 years but it only feels like we were away for a couple of weeks. Just like we've been away for Easter or something."
Friends Reunited: (L-R) John Thomson, James Nesbitt, Faye Ripley, Hermione Norris and Robert Bathurst
One person who's notably absent this time round is Helen Baxendale, who played your character Adam's wife Rachel, tragically killed at the end of Series 5 when the car she was driving got hit by a truck. Did you miss having Helen around? "I loved working with Helen so, yeah, it was sad. She had such a fabulous personality off-camera; she's daft and brilliant and such a hard worker, so I did miss her. We did a little scene where I'm outside a house and it was the real house we first went to. I found it really moving."
Back in the Nineties: The cast with Helen Baxendale (centre)
Where's Adam in his life when the series returns? "Adam's been away working and he's probably spent a lot of time trying to get away from the pain - or has had to be away to deal with the pain - of losing Rachel. Adam's son Matthew is a teenager now and has been at boarding school recently, so Adam's been away from him a bit. I think Adam comes back to Manchester to see what the future holds… and because we need to start the series again!"
Brotherly love: Pete (John Thomson) is delighted when best mate Adam returns to Manchester
Why was it important to revisit these characters at this time in their lives? "This series is about getting older, middle age and what that means for your ambition, drive and sexual desire. Rather than handicapping these characters, it's brought about new opportunities and new beginnings."
There are some new characters too, not least the now teenage Matthew, played by ex-Waterloo Road star Ceallach Spellman. What's it been like working with him? "Oh, Cel's brilliant but he's a big Manchester City fan having to play a Man Utd fan, so it's killing him! I'm not on social media but I've got a private Instagram account and I've been trying to get pics of him wearing a United shirt out there as much as possible!"
James with his on-screen son Ceallach Spellman. Shame one's a Man Utd fan, and the other supports City!
What do you think it is that made Cold Feet so popular back in the late Nineties? "We have a brilliant creator in Mike Bullen, who has an incredible understanding of structure and people's journeys. The very fact we'll explore serious issues but in a comedic way and vice versa is clever and a great part of the show's strength. Also, the sense of collaboration back then made it easier to find that collaboration this time and not disappear into our own ego-driven secret agenda. It's been freeing for us and that's a very cool thing. That's what demonstrates the success of Cold Feet."
And now? "Now, it's 13 years on, these characters' children have grown up, that creates its own dynamic in relationships. The new characters' we're introducing are great, so it feels like a familiar show but it's a new canvas. It feels you're adding something new to the tapestry. So, basically, we're trying to take the show forward while retaining the DNA that made it so popular."
Finally, what did Cold Feet mean to you personally all those years ago? "It was a big thing for me. I was doing other work at the time and I was known, but Cold Feet opened doors for us all. I'd definitely say Cold Feet was the most important job all of us ever had."
Cold Feet returns on Monday September 5 at 9pm on ITV.
Watch a sneak preview of the new series, below:
https://youtu.be/BGpeLXpE9dU
Get the latest updates, reviews and unmissable series to watch and more!
Thank you for signing up to Whattowatch. You will receive a verification email shortly.
There was a problem. Please refresh the page and try again.