Jane McDonald: 'I'm still living the dream thanks to The Cruise!'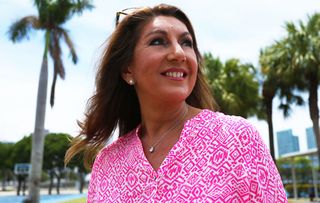 Former Loose Woman Jane McDonald on returning to life on the waves for a new Channel 5 travel series, 18 years after BBC1 docu-soap The Cruise made her a star
Having risen to fame singing aboard a luxury liner in BBC1's hit '90s docu-soap The Cruise, Jane McDonald makes no secret that she loves life on the waves.
So the former Loose Woman was Channel 5's first port of call to test-drive four different cruises for a new travel show.
Filmed over three months, Cruising with Jane McDonald, sees the former Loose Woman tour the Caribbean, the Inner Hebrides, the River Danube and Alaska. Here Jane tells us more…
This surely is the best gig on telly this winter! We bet you jumped at the chance when Channel 5 asked? "I said 'Yes' straight away! I enjoyed every second of doing it. Judith Chalmers move over! I love cruises. I remember the first time I went on a ship, I thought: 'This is my life!' I like the tranquillity of the sea because water has a calming effect on me."
Your adventure starts with a seven-day jaunt around the Caribbean on board glamorous ship The Divina, along with 4,300 other passengers, to sample the mass-market variety of cruise. How did you find it? "When they told me how many passengers would be on it, I wasn't sure I fancied it, but it was brilliant, I'd book again. You see 20 people from the same family on board, which is great. There's plenty of things for the youngsters to do while the elders can sit back and really enjoy it."
In episode two you learned more about your Scottish roots (Wakefield-born Jane's mum is from Coatbridge and her dad hailed from Fife) when you try out a boutique style cruise on converted herring trawler Glen Tarsan to tour the Isle of Mull, Inner Hebrides. Did you enjoy this one? "This was my favourite. When I pulled up to the boat I thought, 'I've just been on a ship where the lifeboats are bigger than this!' But it was stunning. The food was excellent as we had a private chef and the captain ended up serving us dinner most nights."
Next up is a luxury cruise along the River Danube on board super-posh SS Maria Theresa. Tell us more… "It was luxury personified – it was like a palace on there and the food excelled. We pulled up right into the cities, such as Vienna, which you can't do on a sea cruise."
Your final voyage is along the Alaskan coastline on the elegant Nieuw Amsterdam liner. How was that? "I was dreading it – I thought if I can't put a swimming costume on and have a Pina Colada by the pool then what am I doing?! But it was one of the best experiences I've ever had, the views were breathtaking."
You got your big showbiz break on BBC1's The Cruise 18 years ago. Looking back now, you must be pleased with all the opportunities it has since brought you? "It completely changed my life. I'm still living the dream, I could not have had a better life thanks to The Cruise."
Cruising with Jane McDonald premieres on Channel 5 on Friday, February 10
Get the latest updates, reviews and unmissable series to watch and more!
Thank you for signing up to Whattowatch. You will receive a verification email shortly.
There was a problem. Please refresh the page and try again.