Jason Durr: I'm getting used to blood and guts on Casualty! (VIDEO)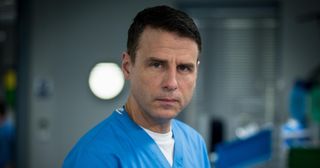 (Image credit: BBC)
Casualty actor Jason Durr confesses he's squeamish but 'manning up' now he's working with blood and guts on the BBC's long-running medical drama.
Playing a nurse on BBC's Casualty might seem like an odd choice for someone who's squeamish about blood, but that's the case for actor Jason Durr.
Chatting to What's on TV Jason revealed he threw himself into the role of nurse David Hide and is learning to cope better with pretend blood on the show.
Talking about his fears, Jason revealed, he's affected both on and off the show: "Blood, needles, anything like that. My little daughter came up to me the other day and showed me her loose tooth; I was nearly on the floor. But every day, whether I'm in the ED or Resus, there's babies being born or somebody's having their leg chopped off. So I'm manning up!"
The former Heartbeat star added: "I had to put a cannula in someone's jugular the other day – not something you do every day – and it's a wonderful process for me. I'm getting used to blood and guts!"
Talking about how much he enjoys working on Casualty, Jason said: "It's a lot of fun. Everyone's so good and it's a treat to come into work. It's what we did as kids – there's a dress-up box, you put it on and you get up there and do something you love every day with people you enjoy working with.
"I feel blessed. It's a treat to come in and to play a wonderful character I'm really enjoying. I'm enjoying the whole thing, it's fantastic."
In this Saturday's series finale, nurse David Hide, finds himself embroiled in colleague Robyn Miller's (Amanda Henderson) love life, when her ex Glen (Owain Arthur) is admitted injured, seemingly drunk, and concussed.
Jason is also heavily involved in Casualty's 30th Anniversary special, which screens on August 27th on BBC.
Get the latest updates, reviews and unmissable series to watch and more!
Thank you for signing up to Whattowatch. You will receive a verification email shortly.
There was a problem. Please refresh the page and try again.