Jenna Coleman to give up the throne as Victoria?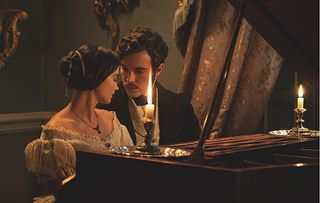 (Image credit: GARETH GATRELL)
Might the third series be the last for Jenna?
Jenna Coleman has hinted that her days as Victoria in the hit ITV drama could be numbered.
The former Doctor Who star will return soon for a third series, but now Jenna has revealed there will come a point in the not too distant future when it will become unrealistic for her to play the Queen.
Series three, opening in 1848, will see Victoria already with six of her nine children and, to put it politely, in reality Her Majesty wasn't quite as slim as she once was.
Jenna, who's finished filming on series three, said she was taking things on a "series-by-series basis" but added in an interview with Radio Times: "In the next one she's starting to look a bit more matronly, she's had six or seven children, so a bit wider, bit more of a bust, the make-up is more drawn… but there will come a point in her story when no amount of prosthetic make-up or me lowering my voice will be convincing enough."
The 32-year-old actress, who was recently seen in harrowing drama The Cry, also said she enjoyed playing the role, saying Victoria was "Quite addictive."
Series three of Victoria will see the monarch coming under pressure to leave London for her own safety as it looks like revolution might come to Britain.
Creator Daisy Goodwin said: "Victoria and Albert are the most famous couple of the nineteenth century, but underneath the united facade, their relationship is at breaking point and it is a struggle for mastery that neither side can win."
Even if Jenna did decide to quit the part it doesn't mean that would be the end for Victoria.
Victoria may well follow the example of The Crown, which is seeing Olivia Colman taking over from Claire Foy as The Queen.
Olivia will be seen as The Queen in the third series of The Netflix hit. We wonder who might take over regal duties on Victoria if Jenna decides to leave?
It's not yet been revealed when series three of Victoria - starring Jenna Coleman - will start.
Get the latest updates, reviews and unmissable series to watch and more!
Thank you for signing up to Whattowatch. You will receive a verification email shortly.
There was a problem. Please refresh the page and try again.