Jennifer Saunders dedicates award to her 'great friend' Victoria Wood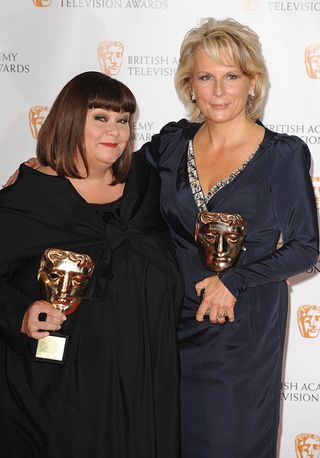 (Image credit: Doug Peters)
She is one of Britain's most loved comedy talents, but one thing Jennifer Saunders says she is not, is a role model. She says the late Victoria Wood was, though.
Jennifer reunited this week with the other half of French and Saunders, Dawn French, at the Glamour Awards, where Dawn presented her with the Outstanding Contribution Award for her comedic works. (You can watch that below)
Jennifer with her long-time comedy partner Dawn French
And Jennifer put her success down to her well-chosen partners.
"I hate working without a comedy partner. You need someone to have fun with, to play off, otherwise it's sort of boring. Making a show should be fun," she said to Glamour.
This year, it will be Jennifer's partnership with Joanna Lumley that will be making headlines as the duo take the Absolutely Fabulous TV series to the big screen, in a film written by Jennifer.
Reflecting on the longevity of Absolutely Fabulous, which started in 1992, Jennifer said: "People love watching people behaving badly.
Joanna Lumley is Jennifer's partner in crime in Ab Fab
"Eddy [Jennifer] and Patsy [Joanna] break the rules, but somehow get away with it - they say the things you're not supposed to say."
But it was to to her "great friend" Victoria Wood, who died in April, that Jennifer dedicated her Glamour award.
Jennifer said Victoria Wood was her role model
"I'm not a role model," Jennifer said. "Because role models show you how to behave. I think it's about saying, 'You can do this - off you go'. Victoria Wood did that for me."
http://www.youtube.com/watch?v=zKgspj9j4tQ
Get the What to Watch Newsletter
The latest updates, reviews and unmissable series to watch and more!