Joan Collins in Conversation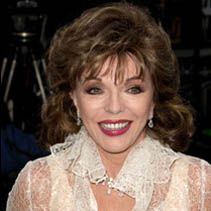 Last night I saw the fabulous Joan Collins in conversation at the BFI.
Her special guest appearance was tied in to the BFI's current Paul Newman season, and followed a screening of the Newman film in which she co-starred – Rally Round the Flag, Boys.
I have to confess that I bought my Joan Collins in Conversation ticket not caring about that old 1950s movie. I was hoping to see Joan Collins the Dynasty icon, the face of Cinzano, the sister of Jackie Collins and the star of The Bitch and The Stud.
In fact, I wanted the Joan Collins of Lucky Bitches, that hilarious sketch by French and Saunders:
http://youtube.com/v/cwYI3U7pkE4
Did I get what I wanted?
Well, looking absolutely amazing at almost 77, Joan Collins swanned onto the stage in a very flattering and glamorous black dress, exuding star presence as well as a relaxed confidence, and proceeded to share anecdotes about her long and colourful career.
She began with her memories of Paul Newman of course, as expected.
Apparently when she first met the actor, he was at a party sitting on a sofa next to James Dean and Marlon Brando, drinking beer. What an anecdote! Joan dropped in some amusing trivia about the actor, having become good friends with Newman and his girlfriend/wife Joanne Woodward over the years, and that included a fun reference to the amazing salad dressing Paul whipped up at a barbeque she attended.
Joan did eventually move on from Paul Newman to discuss the rest of her colourful career. And, I have to say, for me Joan's fascinating and colourful tales of the UK and Hollywood film industry spanning 60 years were a revelation. There's a tendency to forget that the Joan of Dynasty worked with some of Hollywood's biggest legends. I'm keen to check out as many Joan Collins films as I can now – (there's an idea, BFI).
But what about the Joan of glamour and excess – did I get the Joan I was hoping to see?
http://youtube.com/v/33hkaO528ck
Yes, yes ,yes. Joan Collins is still very much that person, although surprisingly down to earth and real at the same time. To my amusement, many of French & Saunders' references in the Lucky Bitches sketch were also referenced by Joan as she reminisced about the 70s and 80s period, especially when she talked about her marvellous 80s creation – Alexis Morell-Colby-Carrington- Dexter-Rowan in Dynasty (or DYE-nasty as she pronounces it).
Yes, my Joan Collins in Conversation ticket was certainly worth the money I spent on it. I wasn't disappointed - that unique poise, those divine looks and that slightly transatlantic accent were all there. It truly was a thrill to see Joan Collins in the flesh. It was also fun star-spotting in the audience – we clapped eyes on Elaine Paige, Nickolas Grace and Steven Berkoff, and I'm sure there were many more.
Here are 10 fabulous facts about the fabulous Joan Collins:
Joan Collins is 76 and looks the same as she did when she played Alexis
She was born in Paddington, London, and trained at RADA
Joan Collins has worked with an amazing number of film legends, including Richard Burton, Bette Davis, Kirk Douglas, Gene Kelly, Bob Hope, James Mason, Robert Mitchum, Paul Newman, Gregory Peck, Laurence Olivier, James Stewart, Joanne Woodward, Jayne Mansfield, John Gielgud, Nigel Hawthorne, Elizabeth Taylor.
The first ever bikini worn on screen was donned by Joan Collins in 1955
Joan starred in the extensively titled film Can Hieronymus Merkin Ever Forget Mercy Humppe and Find True Happiness.
When Joan stripped off in The Stud she was over 40 – breaking ground in the world of movies and setting a precedent for other more mature actresses.
Joan stared in 70s and 80s TV ads for Cinzano and British Airways.
Joan was responsible for the popularity of shoulder pads in the 80s, having suggested that her Dynasty character's costumes should include an exaggerated version of the new broad shoulder look then popular with the fashion industry's top designers.
Joan starred in that noughties answer to Dynasty – Footballers' Wives
Joan has just finished making an indie film called Fetish.
I'm going to be signing up here for email alerts to tell me every time any Joan Collins movies appear on UK TV.
In the near future, Joan can be seen in:
The Flintstones in Viva Rock Vegas is showing on Sky Movies Comedy at the very early 7.45am on Tuesday 20th April, and at the even earlier time of 5.10am the following day.
Agatha Christie's Marple on ITV3 on Wednesday 21st April at 8pm features a guest appearance from Joan.
Dynasty - it's currently showing on CBS Drama every day.
Seven Thieves is showing on Sky Movies Classic on Monday 26th April at 3am
Get the What to Watch Newsletter
The latest updates, reviews and unmissable series to watch and more!