Joanna Lumley: 'I've always wanted to be Maggie Smith!'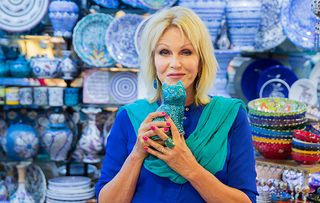 Joanna Lumley reveals all about acting, travel and tracing the ancient silk trading route through Europe and Asia for her Silk Road Adventure, which starts tonight on ITV at 9pm
In Joanna Lumley's Silk Road Adventure, the Absolutely Fabulous star is embarking on her most ambitious travelogue yet, as Joanna Lumley travels 7000 miles through eight countries to follow the ancient routes originally taken by silk traders.
Here, Joanna Lumley tells TV Times about her travels from Venice to the borders of China for Joanna Lumley's Silk Road Adventure, which starts on ITV tonight at 9pm…
TV Times: Why did you want to travel along the Silk Road?
Joanna Lumley: "To study those countries in Central Asia – all the 'Stans' like Uzbekistan and Kyrgyzstan as the cool people call them! - was a dream because my grandfather was a diplomat so he was always travelling in that area. The Silk Road has changed our lives but I realised there isn't a single road, it's a network of connections."
[The first episode is previewed here]
TVT: Which country or city you visited surprised you the most?
JL: "You're not allowed to die if you haven't visited Venice! But all these other majestic places also beggar belief. Tashkent in Uzbekistan was fabulous. It has 29 splendid underground stations, each with a different theme. I visited the cosmonaut-themed one, which was painted dark blue with stars.
TVT: Which of the various local crafts and trades you tried was the most fun?
JL: "I loved making cheese in Turkey and printing scarves in Azerbaijan. I even brought one home with me. They used a little woodblock for the printing and the speed of the man who showed me what to do was amazing. Then the cloth was put into vats of different coloured liquid. It was like tie-dye."
TVT: You're as famous now for your travels as your acting. Have you enjoyed re-inventing yourself?
JL: "Yes, my curiosity has always made me want to travel and I realised that as an actress you can't always get work. Sadly I've always wanted be Dame Maggie Smith or Dame Judi Dench and I'm not, but hey, I'm somebody else!"
TVT: We can't believe you celebrated your 72nd birthday in May. What are your tips for staying young and energetic?
JL: "The crew from Silk Road will tell you, it's all down to heavy makeup! But I think it's because I'm vegetarian too and we shouldn't eat too much meat. Also, you should always keep smiling and don't sit down much. Rush around and run up the stairs if you can."
TVT: What's next for you?
JL: "I can't say much but it will be a really funny TV sitcom, it's a cracker. But I'm also touring this autumn with a one-woman stage show where I'll talk and the audience will ask questions. I'll chat about my delicious travels and there are stories and pictures about my modelling in the 1960s and how I've done everything from Dracula, Bond and Coronation Street to The Two Ronnies. I'll be talking non-stop - I'll have to be dragged off stage!"
Joanna Lumley's Silk Road Adventure begins on ITV on Wednesday 12 September at 9pm
Get the latest updates, reviews and unmissable series to watch and more!
Thank you for signing up to Whattowatch. You will receive a verification email shortly.
There was a problem. Please refresh the page and try again.