Corrie fans love watching Ken Barlow and Joanna Lumley flirting!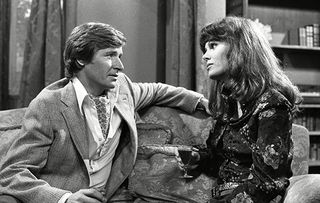 (Image credit: ITV/REX/Shutterstock)
Fans enjoy watching teacher Ken and Elaine (Joanna Lumley) engaging in some flirting 1970s style
Coronation Street has shared a cracking clip - to the delight of fans - showing Ken Barlow and a character played by Joanna Lumley doing a serious spot of flirting in a 1973 episode of the soap.
"Feeling antisocial today are we Kenneth," headmaster Wilfred Perkins asks young teacher Ken, who replies, "No more than unusual, headmaster." The headmaster then introduces young Ken (who seems to think he's Weatherfield's answer to James Bond) to his daughter Elaine (played by Joanna Lumley).
Eventually Ken and Elaine are left alone at which point they engage in some flirting!
"What's a brainy sardonic man like you doing teaching at Bessie Street?" is Elaine's opening gambit.
Ken soon comes in with: "Still you've had a very liberal education… but still very much an innocent abroad in the real world". To which Elaine says with a distinct glint in her eye, "I wouldn't say that!" A remark that extracts a big grin out of Ken!
Corrie fans loved the clip, with one saying: "Gorgeous pair... them were the days & still both legends."
Another said: "Cripes!!! That's the year I was born!!! I nearly didn't recognise Ken!!!"
Ken went on to pursue Elaine but alas for the Weatherfield romeo she eventually knocked him back.
Joanna Lumley made just eight appearances as Elaine in Corrie.
Main pic: ITV/REX/Shutterstock
Get the latest updates, reviews and unmissable series to watch and more!
Thank you for signing up to Whattowatch. You will receive a verification email shortly.
There was a problem. Please refresh the page and try again.