Jonathan Creek returns to BBC1 for a feature-length special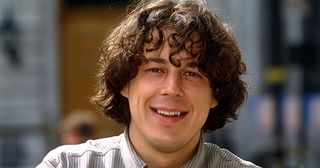 (Image credit: NILS JORGENSEN/REX/Shutterstock)
Warwick Davis will join Alan Davies in the new episode of Jonathan Creek in 'the spookiest episode ever'
BBC1 has announced that the comedy drama Jonathan Creek will return for a 90-minute special, almost 20 years after the first series screened.
QI panellist Alan Davies returns as investigator Jonathan Creek and Sarah Alexander as his wife Polly. Davies has labelled it 'the spookiest episode ever'.
Star Wars actor Warwick Davis will guest star, alongside Game of Thrones' Emun Elliot and Doctorr Who's Ken Bones. Rosalind March, Jason Barnett and Jo Martin will also make appearances.
Written by David Renwick, the plot for the new episode will revolve around the legend of a 19th century sorcerer who would summon the power of hell to terrorise the victims of his home, Daemons' Roost.
A hundred and fifty years later, a horror film director occupies the sorcerer's home, and wishes to tell his stepdaughter Alison the chilling truth about what happened to her family there.
But before he can, he suffers a debilitating stroke, rendering him paralysed and unable to communicate. Jonathan Creek is called upon to help… what truths will he discover in the sorcerer's lair?
Head of Comedy Shane Allen said: "Another sublime and intricately conceived treat from David Renwick and a welcome return for Alan Davies in this signature role."
"You can see the influence of David's unique blend of dark comedy and crime drama across television since the debut of this show nearly 20 years ago, as it remains a pioneering class act and evergreen favourite with the audience."
Filming on the Jonathan Creek special is currently underway and it will screen later this year.
Get the latest updates, reviews and unmissable series to watch and more!
Thank you for signing up to Whattowatch. You will receive a verification email shortly.
There was a problem. Please refresh the page and try again.