Jonny Brownlee: 'When it comes down to the run, it's every man for himself!'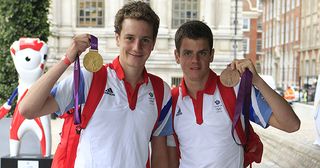 (Image credit: O'Malley/REX/Shutterstock)
TV Times caught up with the Brownlee brothers during a break in training in Switzerland to see how their preparations for the Rio games were coming along…
To win Olympics medals in either running, swimming or cycling is an incredible feat, but to win a medal for all three takes incredible determination and talent. Enter the Brownlee brothers, who stormed to victory during the London 2012 Olympic Games, with Alistair (28) winning gold and Jonny (26) taking bronze in the triathlon.
The boys have kept up their form since then and having just taken the first and second places in showcase events in Leeds and Stockholm, they're right on track to reclaim their Olympic crowns.
TV Times caught up with the brothers during a break in training in Switzerland to see how their preparations for the Rio games were coming along…
How is training going? Alistair: "It's going well thank you. I'm in a camp in Switzerland and it's going well." Jonny: "It's a nice time because the run-up to the Olympics has really started. Now the real hard training has started and we've got another three weeks until we go. But it's all going well and it's all in the right place."
How does the training compare between London and Rio ? Alistair: "It's very similar in terms of the build up, spending about four or five weeks at altitude and then a few weeks down from altitude before the Olympics."
"Obviously in the build up to London I went home for two weeks and I was training back on my home roads, but this time because we're preparing for time difference and heat, we're actually going to somewhere in Brazil for those last two weeks, but in terms of the day-to-day training, it's actually very similar." Jonny: "It's very similar, but I'm a different athlete from London; I've learnt a lot over the last few years. I've learnt when to go hard and when to take it easy; I used to give a bit too much at times, but I've now learnt how important rest is.
"As far as the course goes, it's very different. London was a very fast bike course and a fast run course whereas Rio will be a very tough course; there's a hill on the bike so everyone will be a lot more tired from the bike."
You recently took the first and second spots at Stockholm and Leeds. How have they left you feeling for the games? Jonny: "Very confident, because at the start of the year I had had a few dodgy races. At the Gold Coast earlier this year, I got heat exhaustion and fell apart with 1k to go so I didn't race very well. So I needed to have a good race before the Olympics to settle everything down, give myself confidence and test my fitness. Stockholm went really well; it was one of the best I've ever felt in a race.
"I had a good go at tying to beat Alistair, but unfortunately he just had a little bit more and he beat me. But I feel good that I can go into this block of training and not have to take too many risks and hopefully I can kick on again." Alistair: "The races in Stockholm and Leeds were brilliant and I couldn't have asked for much more in the lead up to the Olympics. Stockholm was good and I think a bit of a better race than Leeds; I felt strong in myself and fit so I was very pleased with the result."
What was the atmosphere like when you were racing in the London games? Was the crowd helping you push for the medal? Jonny: "Yeah they definitely were. We left the hotel in the morning and went through the back way to get in and as we're going in, I remember thinking, 'These Olympics aren't very exciting, not many people have come to watch us!' Then we started warming up on the course and we went around the first corner and the crowd was incredible: we're talking 5/6 people deep for the 5k round on the bike. It was just amazing.
"It really made a big difference when you're suffering on a 10k and you've got people cheering for you and pushing you on. It was the best crowd I'd ever raced in front of." Alistair: "London was amazing, I think it will be the best race I ever race in. The crowd was incredible and I've never seen that many people on the side of a course. It is something that will always be in my memory."
How are you with each other? Are you competitive with each other during the race? Jonny: "We really look out for each other; it's a massive advantage to have. We will look out for each other during the swim and the bike, but when it comes down to the run, it's every man for himself." Alistair: "We will be competing right until the very end!"
How is it for your family? They must be incredibly proud to have two family members win Olympic medals… Alistair: "I think they are, but you'd have to ask them! I think they find it very nerve-wracking watching us race." Jonny: "I think in London they were just relieved that we were both happy with our results. My mum sits there worrying about us crashing or hurting ourselves, so she's happy if we cross the line unhurt. The next emotion is just wanting us to do well. They're obviously very proud of us, but they just want us to be happy for ourselves."
Watch Alistair and Jonny Brownlee race in the Men's Triathlon at the Olympics on the BBC on Thursday, August 18 from 3pm
Interview by Helen Daly
Get the What to Watch Newsletter
The latest updates, reviews and unmissable series to watch and more!