Julie Hesmondhalgh: 'I'm nothing like the mum I thought I'd be – I'm a lot stricter!'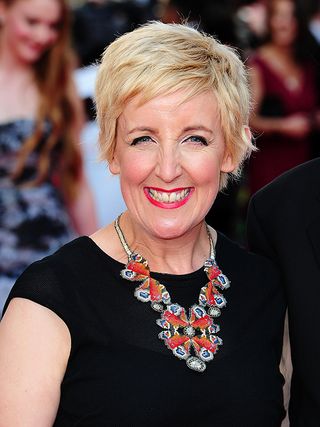 (Image credit: PA Archive/Press Association Ima)
This Morning asked Julie Hesmondhalgh (opens in new tab) to make a series of films for a show, Make a Difference Mums in which she travels the country to hear the stories of five inspirational women. Three have suffered the unimaginable and lost a child, yet managed to channel their grief into something positive.
TV Times (opens in new tab) talks to Julie about the show and her own experiences of motherhood...
As a mum of two girls, can you begin to contemplate what life would be like without them?
"I imagine my life would end if theirs did, so the fact that these women have turned the experience into something positive is amazing. But these films aren't just about bereavement – there's a wide range of mums who are wanting to do something good in the face of adversity."
Tell us about 'Reuben's Retreat' set up by one of the women featured in the programme...
"Nicola Graham was on holiday in Devon in 2012 with her husband and two sons when her younger boy, Reuben, fell ill. Overnight, he was diagnosed with an aggressive brain tumour and died within a week, aged 23 months.
"Nicola wanted to donate his organs, but was told she couldn't because of Reuben's cancerous cells. So, she set about raising money for 'Reuben's Retreat', a holiday home offering respite care to families of children with life-threatening or life-shortening illnesses, and bereavement counselling to help people with their loss."
Did she manage to raise the funds and get the project started?
"Nicola has raised a million pounds and has a building set in beautiful parkland, just outside Manchester. The counselling suite should be up and running by the end of spring, and then work will go into making the place part residential and part day-care centre."
How does this project help these mums?
"Lots of mums have said that when your child is ill, there's a lot of support, but when the child dies, it disappears – and that's when you really need it."
What was it like for you talking to these women?
"I'm really interested in the way people cope with adversity and bereavement, but it is difficult doing something like this because I don't want people to feel inadequate.
"I know other bereaved mums who haven't felt able to do that and, for me, they are also heroic, because they are still getting up in the morning and being there for their other children. That is a super-human achievement in itself."
You must have felt very emotional?
"Just being a mum is hard, anyway. It gives me the most joy, but I can honestly say that it's the most challenging thing I have ever done."
How does it feel being a mum?
"It is absolutely heart-stopping, the joy that children can bring. The things they come out with; the way they draw you into their world. And that love – the lioness thing that kicks in when you're feel they're threatened in any way.
"But, at the same time, it's hard to live with people who are very different to you, and to accept them for who they are and not try to make them into the person you think they should be."
Are you strict with your girls?
"I'm nothing like the mum I thought I'd be – I'm a lot stricter – and, of course, they're nothing like the children I thought they'd be. My biggest failing as a mum – apart from being really cross with them a lot of the time – is that I expect some gratitude for what I'm doing!"
Does having your own children make you appreciate your mother more?
"I think I always knew my mum was brilliant. She's very strong- spirited, and doesn't suffer fools. It's hilarious now because she looks like your average little old lady, but inside is the heart of a lioness!
"I have always felt utter love and pride from her. And she spent time with me as a kid. She doesn't feel like she did; she thinks I did all that with my dad [Julie's beloved father, John, passed away in 2013]. But we used to go tiddler fishing by the canal and on walks through the park."
Was your mother supportive when you decided to become an actor?
"She has always said to me that you don't have kids to live their lives for them, and whatever your kids do, you should try to encourage it.
"Me and my brother, David, were a little bit out of a different box. My mum and dad were office workers, and my brother, David, is a professor of media studies now and I'm an actor. But they really encouraged us, even though it was a world that they didn't understand at all."
What will you be doing with your mum on Mother's Day?
"She moved house last year and I planted 200 bulbs for her in the winter, so hopefully by Mother's Day her garden should be quite a picture. To go to her new bungalow and have a cup of tea and see all that will be lovely. I'm so excited!"
Get the latest updates, reviews and unmissable series to watch and more!
Thank you for signing up to Whattowatch. You will receive a verification email shortly.
There was a problem. Please refresh the page and try again.