Kate Atkinson: 'The Prisoner cast love Wentworth!'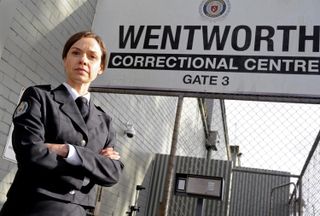 It's been over 25 years since Prisoner: Cell Block H ended its original run. But the long-running Australian prison drama still has a big following worldwide, and has now been brought back in a new modern-day version, Wentworth Prison, now showing on Channel 5 (Wednesdays).
We caught up with series star, Kate Atkinson, who plays Vera Bennett, the Deputy Governor of Wentworth Correctional Centre for women, to find out more about Australia's hard-hitting new drama...
Wentworth isn't a sequel or a prequel to Prisoner: Cell Block H. How would you describe it to curious viewers?
"It is a wonderful re-imagining. It's not a prequel or a re-make. It borrows some of the character names from Prisoner, like Bea Smith, Doreen Anderson, Frankie Doyle and Vera Bennett. But the characters are very different. The series is visually very different too and so are the storylines. The intrigue for Prisoner fans is, will these characters become like the old ones?"
What do the cast of Prisoner make of Wentworth?"
"They have seen the show and absolutely love it! I nervously sat with Fiona Spence, who played Vera Bennett in Prisoner, and we watched the first episode together. The cast of Prisoner have been extraordinary generous and supportive."
Tell us more about your character, Deputy Governor Vera Bennett...
"Vera comes from a very oppressed domestic situation. What she's looking for in her job is some kind of authority and control. At the start of the Wentworth she thinks she's going to get it by befriending prisoners. But over the course of the series she starts to learn that trying to keep everyone happy doesn't work in life or in the prison. Outside of those prison walls, Vera has no power. So she actually likes being at work. I think she's probably being a little bit gullible and needs to look after herself more."
After the shock events at the end of the first episode, does Vera have her sights set on becoming the prison governor?
"She doesn't believe she has the capability to be a leader. Vera is a people-pleaser and tries to do the right thing, but she is actually socially incapable. To be the governor of the prison you need to be a figure of authority. She doesn't have that. She doesn't think she's good enough."
Did you do any research for the role before filming began?
"We did. The production company arranged for some ex-inmates to come and talk to us. I also went out to a maximum security prison. I thought it was really informative to get a real sense of what it's like to be in a prison environment. The real sense of fear and intimidation, rivalries, mental illness, drug use. These are not pleasant places."
What was it like filming with a largely female cast? Any wild tales from the set?
"It was totally rowdy on set! Some days it was actually frightening! One of our main episode directors was a man with five daughters. So he lives in a house full of women, so he sort of knew what to expect. But even so, sometimes the look on his face…!"
Get the latest updates, reviews and unmissable series to watch and more!
Thank you for signing up to Whattowatch. You will receive a verification email shortly.
There was a problem. Please refresh the page and try again.