Katherine Parkinson: 'I was so moved by Kay Mellor's script I got pregnant!'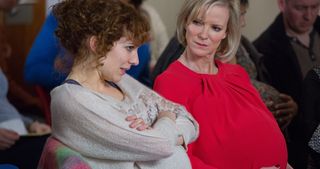 When IT Crowd star Katherine Parkinson read the script of her new BBC1 drama In The Club, which follows a group of heavily pregnant women, she reckons it led her to getting pregnant!
"I was so moved by Kay Mellor's script, I got myself pregnant," laughed a heavily pregnant Katherine at the launch of In The Club, which also stars Jill Halfpenny, Will Mellor and Hermione Norris among others.
"Then when we started filming when I was eight weeks' gone, I was going through the hardest part of my pregnancy - I had loads of migraines under the lights and was feeling really quite rough. Everyone was very supportive."
Katherine plays a lesbian mum-to-be Kim, and she had plenty to contend while filming the drama in Leeds last winter, especially when her on-screen baby arrived.
"My screen baby emptied its bowels in the birthing pool!" she laughed. "But it had been a long day of filming so I was past caring.
"As for real-life, I'm on my second pregnancy this time around, so I'm much more complacent, and I'm looking up Google much less."
In The Club comes to BBC1 later this summer.
Get the latest updates, reviews and unmissable series to watch and more!
Thank you for signing up to Whattowatch. You will receive a verification email shortly.
There was a problem. Please refresh the page and try again.