Krankies gag at expense of Donald Trump goes viral!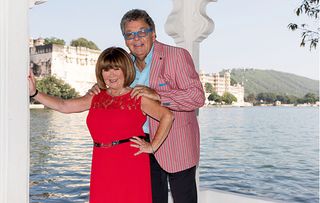 (Image credit: BBC/Twofour/Nikolaz Godet)
It appears some of Trump's supporters believe it's real!
A joke tweet to Donald Trump has gone viral after it pleaded with him to step in to help The Krankies!
The tweet, posted by Brian Freedom Spanner, shows a snap of "Wee Jimmy Krankie" wearing a Make America Great Again hat and pleaded for the American President to help because Jimmy's school had banned him from wearing it.
It read: "My son, Jimmy attends the primary school in Tong on the Isle Of Lewis. The school have forced him to remove his MAGA cap. He's a huge fan and a rewet might make the school let him wear his cap. Thanks and god bless."
It looks like some of Trumps supporters in the US actually think the tweet might be genuine! Will Trump step in?!
Jimmy exclusively told us: ""It's great that President Trump will know who Jimmy Krankie is. Maybe he'll invite me to the White House that would be fandabidozi!"
Meanwhile, most of the internet appears to have realised that the tweet is a joke. One commented: "Have you tweeted this to FoxNews?", while another wrote: "Make America fandabbydozy again!" One prankster tweeted: "Oh the poor wee child, a FAN of trump, DABBing, his tears of disappointment away, I hope the DOZY school fix this...".
Meanwhile, The Krankies, aka Ian and Janette Tough, can be seen in The Real Marigold Hotel which continues on BBC1 this Wednesday at 9pm.
Get the latest updates, reviews and unmissable series to watch and more!
Thank you for signing up to Whattowatch. You will receive a verification email shortly.
There was a problem. Please refresh the page and try again.