Humphrey Goodman leaves Death in Paradise – like star Kris Marshall – for reasons of the heart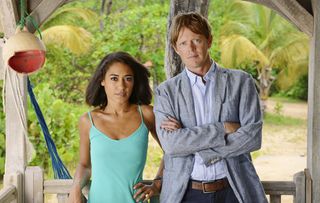 (Image credit: BBC/Red Planet Pictures/Denis Gu)
Kris Marshall brought his popular run as the star of Death in Paradise to a close on Thursday night, to be replaced by Ardal O'Hanlon
Death In Paradise's main character Humphrey Goodman quit the Caribbean for the same reason as Kris Marshall who plays him – to spend more time with his loved ones in the UK.
The actor had previously announced that his decision for leaving the BBC crime drama, which is filmed in Guadeloupe, was to be with his young family.
In Thursday night's episode, DI Goodman, who was visiting London on a murder case, decided not to go back to the fictional island of Saint-Marie so that he could stay with old flame Martha (Sally Bretton), mirroring Kris's real-life dilemma.
Kris had told Good Morning Britain that it was no longer practical to bring his family along to filming as he had done for the first three years.
He said: "We had a daughter this time last year and so bringing her and my son – he's about to start school – it all became a bit of a juggling mission.
"So that was really the reason behind it. So this last series I did do on my own, which was quite tough."
Kris said using Skype to communicate with his family back home 'leaves me bereft', adding: "I have to go and drown my sorrows in the bath."
The actor took over the lead role as DI Humphrey Goodman in 2014 after Ben Miller's DI Richard Poole, who had been the star since the series began in 2011, was killed off at a Cambridge University reunion at the start of the third run.
Father Ted star Ardal O'Hanlon will take over as Saint-Marie's detective, after his London-based DI Jack Mooney exchanged jobs with Goodman.
In an emotional scene at the end of the BBC1 episode, Kris's character told Sally: "There's no point in me being in the Caribbean if you're going to be over here. Where you are is where my paradise is."
He added: "I'd like to stay with you in London forever."
Meanwhile, the recently bereaved DI Mooney and his daughter Siobhan, played by Grace Stone, travelled to Saint-Marie for a holiday and were told when they arrived that they may be staying for longer.
Fans of the series tweeted their sadness at seeing Kris leave the role.
Some viewers thought Kris's exit suggested he was a contender to be the next star of Doctor Who after Peter Capaldi bows out as the Time Lord.
Ardal will star in the final two episodes of Death in Paradise, which continues on BBC1 on Thursday at 9pm.
Get the latest updates, reviews and unmissable series to watch and more!
Thank you for signing up to Whattowatch. You will receive a verification email shortly.
There was a problem. Please refresh the page and try again.