Laurence Fox: 'I'm like Willy Wonka in Victoria!'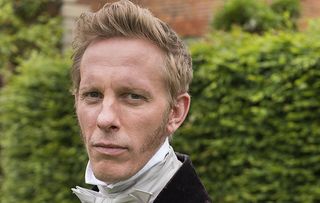 (Image credit: Justin Slee)
Victoria star Laurence Fox on the fun he's having playing naughty Lord Palmerston in the hit period drama
Laurence Fox is having the time of his life playing cheeky politician Lord Palmerston in Victoria. As the maverick Foreign Secretary, the Lewis star has caused a stir at Victoria's court in the third series of the period drama by constantly riling the Queen (Jenna Coleman) and Prince Albert (Tom Hughes) as well as Prime Minister Lord Russell (John Sessions).
Here, Laurence Fox tells TV Times why playing provocative Lord Palmerston in Victoria has been such a laugh…
TV Times: What's your take on Palmerston?
Laurence Fox: "It's a great part. He's naughty and mischievous. It's so much fun. There's an element of Willy Wonka and of Boris Johnson in him and that off the cuff rudeness. Palmerston niggles people and pokes the elephant in the room and enjoys it. He's clever too, with a clear political vision. But I'm the king of one-liners on this show. My favourite is, 'I like nothing more than ministering to a duchess in distress!'"
TVT: Have you enjoyed his look?
LF: "I look exactly like Willy Wonka too! I sometimes see my shadow on the ground and think, 'Ha ha, it's Willy Wonka.' I've even got a cane. But you can't go full Willy Wonka - although it would be nice to!"
TVT: Lord Russell isn't keen on him is he?
LF: "Palmerston undermines Russell. But I'm so lucky to be working with John Sessions - we're like a double act. I've known him for ages and have listened to his anecdotes for the last 25 years and now I'm listening to them again! He's very funny and does an amazing impression of my uncle [Edward Fox]."
TVT: Have you enjoyed working with Jenna too?
LF: "She's fantastic, isn't she? When she has to get angry with me, she raises her voice by only about half a decibel. There's no shouting. She's poised and has to do most of her acting with her eyes, because she's the Queen and she can't give much away."
TVT: It's three years since Lewis ended, do you still keep in touch with Kevin Whateley?
LF: "I see Kev loads. We've been through lots of stuff together. He's a great guy - I love him. No one's phoned me up and said they want Lewis back. I don't know if I'd do it. Maybe we should start a campaign. But I've never felt it's good to beg for work!"
Victoria continues on Sunday at 9pm on ITV
Get the latest updates, reviews and unmissable series to watch and more!
Thank you for signing up to Whattowatch. You will receive a verification email shortly.
There was a problem. Please refresh the page and try again.