Jenna Coleman on the new series of Victoria: 'The Queen is in danger!'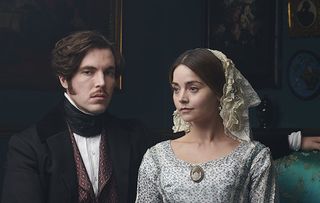 Jenna Coleman and Tom Hughes spill the beans on the tensions and trauma ahead as ITV's Victoria returns for a third series
Storm clouds are gathering as the third series of ITV period drama Victoria begins. Set in 1848, the new run finds monarchies under threat across Europe. But will Victoria (Jenna Coleman) be safe on her throne? Meanwhile tensions flare up in her marriage to Prince Albert (Tom Hughes) and new faces cause turmoil.
Here, Jenna Coleman and Tom Hughes tell TV Times what lies ahead in the third series of Victoria…
TV Times: As the series opens, the French king Louis Philippe (Vincent Regan) is deposed. Do Victoria and Albert feel in jeopardy too?
Jenna Coleman: "Yes, they're potentially in danger, there are riots in London. She believes she could be overthrown and realises the relationship she had with the people isn't what she thought. Her world's shaken." Tom Hughes: "There are different political opinions on how to deal with it. Albert disagrees with revolution but he understands where the unrest has come from and seeks to change the structure."
TVT: New Foreign Secretary Lord Palmerston (Laurence Fox) and Prime Minister Lord John Russell (John Sessions), also cause a stir. How do Victoria and Albert get on with them?
JC: "Palmerston's tricky! He lives by his own rules, doesn't abide by Victoria's and hasn't got respect for protocol. But he's charismatic and the people love him so for Victoria he's a rival and she tries to work out how to engage with him on a political level." TH: "Russell seems a weak leader and Albert's frustrated because you need someone with more conviction to hold Palmerston back but he later respects Russell's moral fibre. Palmerston's charming with a bullishness and vagabond quality and Laurence does that effortlessly. The scenes with him were a delight!"
TVT: Victoria's half-sister Princess Feodora (Kate Fleetwood) also makes an unexpected arrival. What impact does she make?
JC: "Kate's fantastic. Victoria and Feodora have an interesting relationship and there's tension and resentment. Feodora comes between Victoria and Albert and meddles. She becomes Albert's confidante." TH: "He likes her. She's clever in the way she plays him. This is the most fractious Victoria and Albert's marriage gets."
TVT: Victoria is pregnant with her sixth baby as the series opens, are you an old hand at wearing the prosthetic bump now Jenna?!
JC: The bump is big! But I'm used to it now. I enjoy playing the Victoria that's miffed to be pregnant again! We see more of the children this time. Prince Bertie [Laurie Shepherd] has some amazing stories and he's the troublesome child - as he was throughout his life - and he's the future king. It's hilarious having the children on set though. When they're running around excited, it breathes different life into it."
Victoria returns on Sunday 24 March on ITV at 9pm
Caren has been a journalist specializing in TV for almost two decades and is a Senior Features Writer for TV Times, TV & Satellite Week and What's On TV magazines and she also writes for What to Watch.
Over the years, she has spent many a day in a muddy field or an on-set catering bus chatting to numerous stars on location including the likes of Olivia Colman, David Tennant, Suranne Jones, Jamie Dornan, Dame Judi Dench and Sir Derek Jacobi as well as Hollywood actors such as Glenn Close and Kiefer Sutherland.
Caren will happily sit down and watch any kind of telly (well, maybe not sci-fi!), but she particularly loves period dramas like Call the Midwife, Downton Abbey and The Crown and she's also a big fan of juicy crime thrillers from Line of Duty to Poirot.
In her spare time, Caren enjoys going to the cinema and theatre or curling up with a good book.
Get the latest updates, reviews and unmissable series to watch and more!
Thank you for signing up to Whattowatch. You will receive a verification email shortly.
There was a problem. Please refresh the page and try again.