Le Mépris (1963) | Jean-Luc Godard's stylish masterpiece back in UK cinemas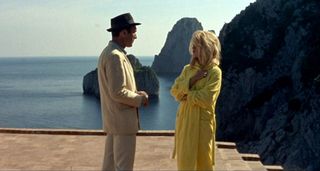 Emotionally charged, sublimely shot and starring one of cinema's most iconic female sex symbols, Brigitte Bardot, Jean-Luc Godard's 1963 New Wave masterpiece Le Mépris epitomises 1960s style, modernity and glamour. This landmark of world cinema is re-released in cinemas UK-wide on 1 January 2016 and will also be the centrepiece of BFI Southbank's major retrospective of the director's work, which runs until 16 March 2016. It's also one of the highlights in StudioCanal's five-disc Blu-ray collection being released on 25 January, which also comprises Breathless, Pierrot Le Fou, Alphaville and Une Femme est Une Femme, and a host of special extras
More Bold! More Brazen! And Much, Much More Bardot!
Caught in the crossfire of a creative battle between an artistic director (Fritz Lang playing himself) and a hard-headed American producer Jeremy Prokosh (Jack Palance), screenwriter Paul Javal (Michel Piccoli) finds himself embroiled in a battle of wills on the set of a new adaptation of Homer's The Odyssey. Siding with the producer, Paul's decision-making incurs the displeasure of his wife, Camille (Brigitte Bardot) and their disintegrating marriage is revealed as she regards him with increasing contempt…
Based on the novel A Ghost at Noon by Italian writer Alberto Moravia (The Conformist), Godard's film is a meditation on absurdity, compromise and integrity – in both art and marriage. This was his most successful feature becoming the seventh best performing film at the box office in France in 1963 – and much of that was due to in part to Bardot, one the biggest stars in the world at the time, whose lengthy opening nude scenes helped sell the film internationally.
Still considered to be Godard's finest film, Le Mépris was voted 21st in Sight & Sound's Greatest Films of All Time poll in 2012.
http://www.youtube.com/watch?v=rF0Ju0ONwGU
Thank you for signing up to Whattowatch. You will receive a verification email shortly.
There was a problem. Please refresh the page and try again.