Martin Clunes on his new BBC1 comedy Warren: 'I love being awful'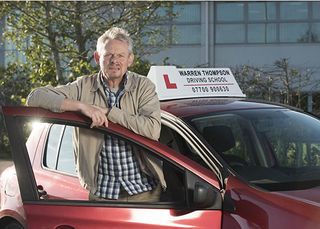 (Image credit: BBC/Hat Trick Productions/Warren)
Martin on his return to comedy
Martin Clunes is no stranger to playing a grump. This time he's swapping the angriest medic in Cornwall, Doc Martin, for the most angst-ridden driving instructor in Preston, in his new BBC1 sitcom, Warren.
Fresh from the huge success of acclaimed ITV true-crime drama Manhunt, Martin plays Warren Thompson, a proud Southerner forced to move up North with his partner, Anne, and her two teenage sons, neither of whom he has much time for.
With his glass-half-empty approach to life, nothing seems to go right for tight-fisted Warren, be it because his neighbours have a better pond, or a new driving instructor arrives to steal his clients. And his in-laws aren't helping matters either…
Here, Martin Clunes, 57, tells TV Times why, despite his initial reservations, he felt compelled to say yes to playing Warren
How would you describe Warren?
Martin Clunes: "Self-satisfied, completely without conscience, short-sighted and awful! But he's joyous to play. He's completely unsympathetic but he does love his partner Anne [played by The A Word's Lisa Millett], who is just adorable. He gets himself in such a pickle and she gets him out of it with her common sense, because he gets quite worked up – they're mutually dependent. There are bits of Warren that I admire, actually, a bit like Doc Martin – I wish I had the confidence to be that rude to people! He's partly based on our writer's father…"
Warren's not impressed by life up North, is he?
MC: "No, he is an isolated, embittered Londoner always keen to moan about the North! Plus there are the classic sitcom elements of neighbours and in-laws to contend with. As a devout Southerner, I felt like becoming a Northerner by the end of the job. The cast were so warm and great to work with."
He's not much of a father figure to Anne's sons, Danny and Charlie…
MC: "He always likes to point out that the boys aren't stepsons because he and Anne aren't married. Warren sees the boys as people he has to tolerate, even though he'd rather not. He then starts to think, 'If I have to put up with them, what's in it for me?' So he makes Charlie go for a job at the garden centre, so he can get the staff discount!"
He's not even redeemed by his skills as a driving instructor, is he?
MC: "No, every episode starts with a lesson and he makes his pupils do all sorts of things – take him to a drive-through for a burger, drive him to the shops… he makes another get involved in a high-speed car chase. There's a lot of physical comedy and funny driving! At the studios where we film in Cardiff, there's a stretch of dual carriageway called 'the road to nowhere', so we shot a lot of those scenes there."
What was your own driving instructor like?
MC: "Here's the thing, I never had a driving lesson but I passed my test first time because I'm a beautiful natural driver! When I was 17, I actually invented a friend called Richard with a full driving licence, who I claimed to pick up from down the road so he could take me for lessons. He disappeared after I passed my test and I told my mum he had moved house!"
Did you do any stunt driving yourself on this?
MC: "Yes, I love it when you can prat about a bit! On Doc Martin, I drive that giant Lexus down Port Isaac at 60mph because I think it's funny and I'm sick of watching people driving badly on TV. I did all of the driving in Warren except for one handbrake turn, but the guy showed me how to do it, so next time!"
Were you pleased to return to a sitcom after Men Behaving Badly and Reggie Perrin?
MC: "I didn't want to do another half-hour comedy, but this was so funny, I didn't want anyone else to do it. The script was sent to me by my friend Jimmy Mulville, who runs the production company. I've known him 30 years. We did a play together and stayed in touch, so I knew it was going to be good."
Why were you so reluctant?
MC: "I did Reggie Perrin, which I really enjoyed, but it didn't go down well and the BBC dropped it, so I thought maybe that's enough. Then Warren came along and there just wasn't a good enough reason to say no."
Your portrayal of DCI Colin Sutton in Manhunt had an amazing response – you must be proud…
MC: "We sort of felt vindicated because some of the tabloids got on their high horse about the show before it went out, but we knew it wasn't salacious and we really did feel it was a story worth telling."
Warren, starring Martin Clunes, starts on BBC1 on Monday.
Men Behaving Badly pic: BRENDAN O'SULLIVAN/REX/Shutterstock.
Get the latest updates, reviews and unmissable series to watch and more!
Thank you for signing up to Whattowatch. You will receive a verification email shortly.
There was a problem. Please refresh the page and try again.