Martin Shaw: 'It's the right time to end George Gently'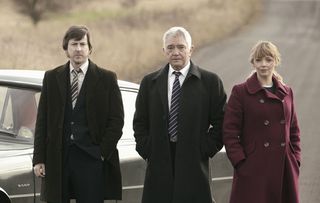 (Image credit: BBC / Company Pictures / Mark Ma)
We spoke to Martin Shaw about saying a very fond farewell to stalwart detective DCI George Gently after a decade of playing him in the period crime drama...
After a decade playing TV's most upstanding detective in BBC1's North East-set crime drama Inspector George Gently, Martin Shaw is bowing out with two special feature-length episodes, which sees the action move to 1970. We took Martin in for questioning to learn more…
How do you feel about the show coming to an end? "It's absolutely the right time. We had 10 fantastic years and it has just been wonderful but you want to stop when it's at its best. We want to give the audience a proper farewell because we have had a very loyal following. And this is definitely the end... unless he returns in flashback."
What can you tell us about the two final cases? "The first investigation is the re-opening of a case that his assistant DI John Bacchus [Lee Ingleby] worked on where a woman was convicted of murdering her husband but Gently feels like it doesn't seem to add up and, because he's like a dog with a bone, he starts digging to see if Bacchus took the easy way. Then, in the second and last episode, as Gently faces retirement, some special investigation officers from Whitehall get him to investigate a murder on the quiet and it gets into a whole area of state corruption."
What is the relationship like with Gently and Bacchus this time? "It's a real journey for them, Gently has been nurturing Bacchus for all these years but in the first case he wonders about him. But they don't end as enemies; that would be unsatisfactory."
Will you miss playing Gently? "Absolutely, because he is the ideal policeman with common sense and a simplicity of vision where he just thinks that the law is the law."
Will it be tough not working with Lee anymore? "Definitely. With Lee there was a familiarity from day one. It was just so easy and he and Lisa McGrillis [DS Rachel Coles] are just hilarious and outrageous. It's like an ongoing sketch show and I just sit back and watch and fall off my chair laughing."
Will you take any mementoes from set? "Gently has a Ronson lighter that had been engraved 'To George with love from Isabella' [his murdered wife]. No one is ever going to see that inscription except me and that's one thing I would like."
This series is set in 1970, did that bring back memories for you? "I've pretty much been the unofficial historical advisor on the show. Sometimes I'm overruled though because we were walking into a university building that had an automatic door and I said that we didn't have automatic doors in 1970 but they went onto Google and apparently we did. There have been some ridiculous costumes too but we did wear things like that. I remember on The Professionals it was embarrassing with that perm. But it became a look in that era."
What would you like to do next? "I want to be in Game of Thrones. It is my guilty pleasure; I love it. I can't wait for it to come back. I think I would like to be in one of the warm parts of Westeros though because being on The Wall looks dreadful!"
So retirement is not on the cards for you? "Well, there are two types of retirement for actors, the kind where no one wants you anymore and the kind where you think 'I just don't have the fire any more'. So far, neither of those things has happened to me."
Inspector George Gently airs on Sunday on BBC1 at 8.30pm
Get the latest updates, reviews and unmissable series to watch and more!
Thank you for signing up to Whattowatch. You will receive a verification email shortly.
There was a problem. Please refresh the page and try again.