Michael Flatley: 'It was a wonderful evening... But I was a wee bit sore afterwards'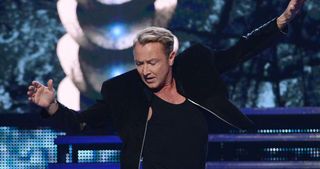 Michael Flatley (opens in new tab) is marking the 20th anniversary of Riverdance with a spectacular celebration Michael Flatley: A Night To Remember, screening on Sunday, June 1.
The one-off special will see the record-breaking dancer perform on British TV for the first time in a decade. TV & Satellite Week (opens in new tab) caught up with him to find out more…
Why have you been away from British TV for so long?
"Apologies! I have been all over the world touring from Toyko to Texas and from Mexico to Moscow, but we are delighted now to be coming home to London."
What was it like doing the special show?
"It was a wonderful, memorable evening and it felt like it turned back the clock for me. I don't have to dance any more, but I still love it. I have a lot of miles on me now and it takes me a lot more runway to get up speed, but I felt powerful and really in shape and on form. But I was a wee bit sore afterwards!"
What was the highlight of the show for you?
"Seeing my son Michael St James in the audience… It was just as I came out to my Feet of Flames solo, the most difficult dance in the arsenal, and it was a great buzz and gave me a real lift."
Will he follow in your footsteps?
"Well he is just a little guy, he is more interested in Formula One and rugby, but he dances around the house, although it's more modern stuff compared to what I do, so you never know…"
Nadine Coyle performs on the night as she is starring in your new touring show Lord of the Dance: Dangerous Games. Why did you cast her?
"If there is a better voice than Nadine Coyle's, I've not heard it. I was looking for the best female voice in the world today and she has fire in her soul and passion, she has just something special and when she sings the title song from Dangerous Games it's mesmerising, I'm so proud of her."
And Muhammad Ali sent a congratulatory letter to you didn't he?
"Yes, he is my life-long hero. My brother and I were both fighters and he was the person we looked up to most so I was speechless and so flattered when I got the letter, I feel I have come a long way."
What are your memories of the interval performance at Eurovision in Dublin in 1994 when you first showcased Riverdance?
"It doesn't seem like 20 years ago, but life moves quickly as you get older. There was something magic in the air that night, it was sensational and we were blessed to be able to perform something that changed dance forever."
Were you the sort of kid who grew up watching people like Fred Astaire and Gene Kelly?
"Well I admire anybody who is great at what they do, but the type of dance that I do is so completely different from anything that was out there so there was nothing that I could watch and say, 'I would love to do that', so I had to go out and create my own form of dance. Who wouldn't admire Mikhail Baryshnikov for instance or Rudolf Nureyev or Gregory Hines, Fred Astaire, Gene Kelly and Jimmy Cagney, they are all sensational dancers and demand so much credit."
What would you have done if you hadn't become a dancer?

"I've never thought about it because it has always been part of my life and my DNA, but I am also a painter now, and painting is consuming me more as I face the end of my career and so that will be the next chapter."
You are a very talented flautist as well, do you prefer playing the flute or dancing?
"I don't think you can compare the two, dancing is just filled with energy and emotion and passion in a much more physical way and flute playing is something deep inside, they are two totally different things but I love them both equally."
How is your health now, as you had a scare a few years ago?
"Yes I did, it is much much better, thank God, but I will never be completely out of the woods, I have checks all the time especially because of the type of physical exertion that I undergo on stage. But I don't focus on those things, I focus on the fact that I feel great."
What did you make of Stavros Flatley from Britain's Got Talent?
"I haven't watched TV in 20 years. I only watch rugby or boxing, but I did meet them and they are lovely fellas. What I loved most is that they are so nice to each other and so close as father and son, it reminds me of my relationship with my own father."
What ambitions do you have now?
"My new motivation is to turn my young dancers into stars in their own right. I have the hottest dance troupe in the world, everybody is firing on all cylinders and it is a joy to dance with them because their enthusiasm is infectious and they are hungry to learn more."
For the full interview, read TV & Satellite Week, which is on sale now.
Get the latest updates, reviews and unmissable series to watch and more!
Caren has been a journalist specializing in TV for almost two decades and is a Senior Features Writer for TV Times, TV & Satellite Week and What's On TV magazines and she also writes for What to Watch.
Over the years, she has spent many a day in a muddy field or an on-set catering bus chatting to numerous stars on location including the likes of Olivia Colman, David Tennant, Suranne Jones, Jamie Dornan, Dame Judi Dench and Sir Derek Jacobi as well as Hollywood actors such as Glenn Close and Kiefer Sutherland.
Caren will happily sit down and watch any kind of telly (well, maybe not sci-fi!), but she particularly loves period dramas like Call the Midwife, Downton Abbey and The Crown and she's also a big fan of juicy crime thrillers from Line of Duty to Poirot.
In her spare time, Caren enjoys going to the cinema and theatre or curling up with a good book.
Thank you for signing up to Whattowatch. You will receive a verification email shortly.
There was a problem. Please refresh the page and try again.