Michael McIntyre on Big Show return: 'The stunts this time are crazy!'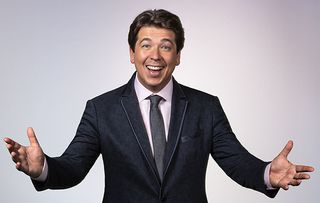 (Image credit: Hungry Bear/Gary Moyes/Matt Burl)
King of variety Michael McIntyre is back this week with a fourth series of his Big Show. Here, the host with the most teases what's in store...
Michael McIntyre on how his Big Show is even bigger this series…
Michael McIntyre's Big Show returns this week and it really is bigger and better than ever before. The floppy-haired comic's blend of silly games, surprises and celebrity guests has proved such a hit with viewers that this fourth series has been extended to eight episodes.
In this week's opener, filmed once again at London's Theatre Royal Drury Lane, all of the fan favourites are back. Holly Willoughby will be surrendering her mobile phone to Michael for hilarious text game Send To All, Jane from The Wirral gets the shock of her life when Michael creeps into her bedroom for the Midnight Gameshow. And 92-year-old David gives the performance of a lifetime as the show's oldest Unexpected Star. Music comes from Little Mix.
TV Times chatted to Michael, 42, about what fun and games we can expect this time round…
One of our favourite parts of your Big Show is Send To All. What famous faces have you got playing this series?
Michael McIntyre: "Send to All has been hilarious this series. First up, we've got Holly Willoughby, then Eamonn Holmes and Ruth Langsford, Anton du Beke, Bradley Walsh, Cheryl and Josh Groban, who's our first American. The texts we've sent to the stars' contacts lists have been lots of fun and the replies brilliant. It's so much fun to nose around people's phones, who never know where the comedy is going to come from. Alan Shearer has alarms set every few minutes on his phone; this series Bradley Walsh has weather from about 15 different places on his."
What stunts can we expect for the Unexpected Star this series?
MM: "We are doing more and more elaborate things and it's crazy the way we're surprising people in the theatre. This series we have an actual aeroplane fuselage on stage and the Unexpected Star, who is a pilot, sits in a seat and the front of the plane falls down for him to find himself in the middle of the stage. We also turned the theatre into a cinema and built an actual auditorium on the stage.
"The Unexpected Star sat in her seat with her popcorn and the screen fell down to reveal the packed Theatre Royal on their feet applauding her. All the Unexpected Stars have been incredibly shocked but have bought the house down with their amazing performances at the end of each show. I can't wait for people to see them!"
Has the surprise for the Unexpected Star ever gone wrong?
MM: "It almost went wrong in this week's first show with our oldest star to date, 92-year-old David. He thought he was going to buy a new walking frame and Lionel Blair, who was part of the prank, called him by his name. David kept saying, 'How does he know my name?'. Luckily, we got away with it!"
Have you ever got emotional watching the Unexpected Star perform?
MM: "People always say it's a dream come true to perform for so many people and on TV. But when the Unexpected Star is in their Nineties, like David is, it felt much more poignant because he really had waited a lifetime for this moment. He was determined to make the most of it and he really loved it. I was watching the monitor at the side of the stage and thought this is everything the Unexpected Star can be. It just encapsulated it perfectly and I did well up a bit."
Can you tell us about some of the surprises in store in the Midnight Gameshow this series?
MM: "We've been doing a new thing called: 'Who's singing in your shower?' where we've been getting people out of bed and taking them to their bathroom where there's a popstar singing in their shower and they have to identify who it is. In terms of other surprises, we were playing the Midnight Gameshow with a woman from Merseyside and Mr Tickle came into the bedroom and I asked her which of the Mr Men he was.
"To give her a clue, he tried to tickle her husband but couldn't move his arms so, instead of tickling, he just kept bouncing into him, which gave me the giggles. She named every single Mr Man apart from Mr Tickle, while Mr Tickle was trying to tickle her husband without the use of his arms. It was hilarious!"
We're not sure we'd want you bursting into our bedroom in the middle of the night…
MM: "There are so many layers of excitement to a Midnight Gameshow, it's about how people react. We had a guy in Wales who never really woke up; he didn't have a clue what was going throughout, which made it very funny. And there was a girl in Essex, who complained the whole time about her eyelashes not being on. She was hitting her husband with a pillow because she couldn't believe she was going to be on TV without her eyelashes on!"
What music guests can we expect this series?
"We've got amazing music performances this year from Nile Rodgers, Rita Ora, Kylie, George Ezra, Paloma Faith, Little Mix, Cheryl and Michael Buble. I had a great moment with Michael Buble where I asked him if he could teach me to sing like him and he said: 'Why we don't sing together?' So we did! It was great because my wife and children came to watch his performance. I did every dance move I could think of in between. I even greatly embarrassed my kids by doing that floss dance very badly. It certainly felt very showbizzy – what a charming, lovely man he was, very generous and game for a laugh."
When you first started this show, did you imagine you'd be going for four series?
"We had a lot of new ideas and didn't know if they would work but as soon as they did on the first recording it was very exciting. We've just tried to make every show and series better than the last as we get more experience and more confidence. I initially made the show because I was watching TV with my kids on a Saturday night and I liked the dynamic of the whole family watching TV together. I found trying to create a show that everyone could enjoy really appealing."
Michael McIntyre's Big Show starts on Saturday November 17 at 8.10pm on BBC1.
Get the latest updates, reviews and unmissable series to watch and more!
Thank you for signing up to Whattowatch. You will receive a verification email shortly.
There was a problem. Please refresh the page and try again.