Michelle Keegan: My marriage helped prepare me for Tina and Bobby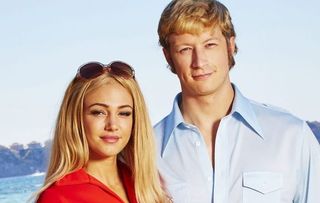 Former Corrie star Michelle Keegan reveals how her marriage in the public eye has given her insight into playing Bobby Moore's wife Tina in a new ITV series
Michelle Keegan says that having a relationship in the public eye helped her relate to playing the role of football legend Bobby Moore's wife in the upcoming drama about their marriage, Tina and Bobby.
The Our Girl star, who last year married former TOWIE star Mark Wright, described Tina Dean as a 'caring person, a great mum and a brilliant wife'.
Though she described meeting Tina in person during a read-through as daunting, Michelle said: "I think having a relationship that is in the public eye certainly related to me.
"I love playing strong women, but I just loved the scripts. Tina's story mentally and emotionally engaged me."
Tina married Bobby at 19 in 1962, the same year that the footballer made his debut for England with a pre-World Cup friendly victory over Peru.
Already described as a national golden couple, the pair were thrust into the spotlight in 1966, when England won the tournament with Bobby as captain.
The three-part ITV drama, which will launch on January 13, delves into their relationship, fraught with problems such as Bobby's cancer diagnosis, his arrest in 1970 and mounting debt as his career began to wane.
"I want to tell her story to the best of my ability," said Michelle, 29."After the read-through Tina shared a lot of stories and memories about their life together.
"Tina is a very confident and strong woman. She's very independent too.
"A lot of the time Tina was the backbone of their marriage and Bobby always went to her for advice.
"Although she was in the background when it came to his career, in their marriage she was always at the forefront of their relationship."
Commenting on the Moores' eventual divorce in 1986, six years before his death, Michelle said: "I think a lot of their hardships bought them closer together.
"They were together for over 20 years and Tina was willing to work at their marriage even after it broke down. There was still a lot of respect there and I think there was still a lot of love between them.
"Tina wanted to be his wife and look after him."
Michelle, who recently dismissed rumours that she and Mark had split up, revealed that her husband gave her some private tutoring in the world of football to help get her ready for the role.
"Mark is a West Ham supporter (Bobby's first professional team) and knew a lot about both of them," she said.
"Being from Essex Mark told me what Bobby meant to people here, how he was regarded as one of the greatest defenders, what a legend Bobby was and what he meant to football.
"The first time I heard their story was when I watched the documentary, Bobby. A few weeks later I received the scripts so it felt like fate."
Tina and Bobby premieres on ITV at 9pm on January 13.
Get the latest updates, reviews and unmissable series to watch and more!
Thank you for signing up to Whattowatch. You will receive a verification email shortly.
There was a problem. Please refresh the page and try again.