The Missing star Tcheky Karyo: Julien Baptiste has been 'a gift' for me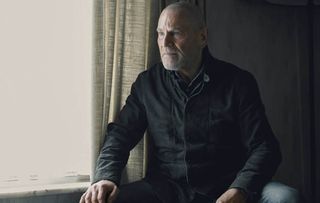 (Image credit: BBC/New Pictures)
French actor Tcheky Karyo says there is a possibility The Missing could return for a third series – and he definitely hopes Baptiste will still be around to play a part in it
This series of The Missing has been gripping and mystifying in equal measure. The bedrock of the show has been the completely obsessive nature of ex detective Julien Baptiste's investigation.
TV&Satellite Week spoke to Turkish-French actor Tcheky Karyo, who plays Baptiste, and asked him the vital questions – will there be a series three? And if so, will Baptiste survive and return for it?
After last week's discoveries, Julien follows the trail to Switzerland with Alice's parents Gemma (Keeley Hawes) and Sam (David Morrissey) – will they at last get some answers? "As a mother, Gemma has had a gut feeling for a long time, she knows there is something wrong and now she has become an accomplice to Julien. He is completely obsessed by his desire to find the truth and confront the people he is sure are involved in the abduction, he just has to prove them, but he is in urgent danger and walking on a tightrope. If he doesn't succeed he is going to get really mad."
There has been so much speculation as to how the series will end. Did you manage to guess what happens? "I knew the ending before everybody! I think it is the right ending and a good one. It will keep people on their toes, there are surprises and twists, but everything will be answered, although the writers [brothers Jack and Harry Williams] are witty and mischievous and they have fun being playful with the viewers too, they don't think the audience are stupid, they don't spoon-feed them."
Have you had a strong reaction to this series? "Yes, on Twitter we have been trending all night after the episodes, and there are lot of blogs where people are trying to predict what will happen and exchanging ideas as to how the story will unfold. It is really exciting. This series has been more complex and it allows for a lot of interaction from viewers, it's almost a game. It feels like viewers are becoming Julien's colleagues and investigating as much as he does."
And how have people responded to Julien himself? "Everybody seems afraid he is going to die from this brain tumour he has and they don't want him to. Julien receives a lot of affection from viewers; it seems like there was Hercule Poirot and today you have Julien Baptiste. It is really moving and makes me proud that I have been given an opportunity to play this character. It is a gift."
The series is harrowing, is it hard not to take it home with you? "Although I feel like I am 30, I am 63, and I am going through all this emotion because of what he's experiencing with this disease, so I go home and have to sleep and eat well and do push-ups because it does stay with me. It does raise questions for me, too, because I have young children and I am also a grandfather."
Would you be up for a third series? "People seem to want to see Julien again and I love the show because it is so exciting to share my skills with British actors and it is a rewarding challenge to act in English. The ending is left open for a possible third one and Harry and Jack have said, 'Never say never', but we will see, we will meet soon and I am sure we can talk. I hope there are more skeletons in Julien's closet, there are so many things to say."
What's next for you? "I've been making a film in Sicily about Mary Magdalene with Rooney Mara. I play her father and my hair has grown back after I had it shaved for The Missing, so now I look like a prophet lost in the 21st century with long hair and a big beard!"
5 Burning Questions about The Missing Every episode of The Missing raises more questions than it answers, but here are five things that we want resolved in the finale…
Who is Sophie Giroux? Is Sophie the burned corpse who we thought was Alice (Abigail Hardingham) or is she the 'Alice' that's still alive? And who's the third girl on the roller-coaster?
Is Stone as ill as he makes out? Adrian Stone (Roger Allam) appears to have a lot to hide, but how advanced is his dementia and is he using it as a way of escaping justice?
Are Kristian and Nadia Hertz really involved? Has butcher Kristian (Filip Peeters) really been framed and does his ex army officer wife Nadia (Lia Williams) have something more to reveal?
Who was responsible for the death of Henry Reed? Evidence points to Henry having been murdered, but who hushed him up and why did 'Alice' put flowers on his grave?
How is Alice and Sophie's abduction connected to what happened in Iraq? Did Alice and Sophie stumble across the dark events in Iraq or is there another link between the cases?
The Missing concludes on BBC1 on Wednesday, November 30
Get the latest updates, reviews and unmissable series to watch and more!
Thank you for signing up to Whattowatch. You will receive a verification email shortly.
There was a problem. Please refresh the page and try again.