The A Word's Morven Christie: 'I'm very protective and maternal towards Max'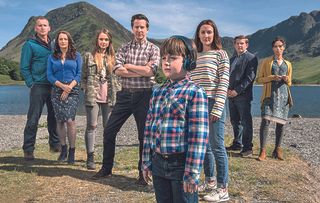 (Image credit: BBC/Fifty Fathoms)
Morven Christie reveals her feelings towards Max Vento, who plays Joe, as The A Word returns
Stars Lee Ingleby and Morven Christie on the return of The A Word and how the show transformed their lives...
What's the story?
The A Word quickly became one of the stand-out new programmes of last year thanks to its heart-warming, but brutally honest, portrayal of one loving family's struggle to deal with their son's autism diagnosis.
As the second six-part series begins on BBC1 on Tuesday, little Joe (Max Vento) is now seven and life for his parents Paul (Lee Ingleby) and Alison (Morven Christie) remains just as complex as they face big decisions about their music-loving son's future and fresh issues within their own relationship.
TV Times spoke to Lee Ingleby, 41, and Morven Christie, 36, on the show's Manchester set, where they shared their delight that the show has put autism on the TV map…
TV Times: Where do we find Paul and Alison at the start of this series?
Lee Ingleby: "It's two years on, and they seem to have got used to the situation and Joe remains unaware that he is autistic, or so they think. Although Paul befriends an older autistic boy, Mark [played by Travis Smith, who himself is autistic], he doesn't really want to embrace the autism community because he's considering the future for Joe and he doesn't like what he sees. He thinks everything can be swept under the carpet but that carpet is getting a bigger bulge!"
Morven Christie: "It's like a role reversal because, in the first series, Alison fought against things, but she's now finding the joy in Joe and has ways of managing his behaviour. She looks for support from the autism community and has become friends with Mark's mum Sophie [Lucy Gaskell], so she is less terrified and although she is still a bull in a china shop, she becomes more loveable."
TVT: As the series starts, Joe isn't coping at school. How does that impact on the family?
Lee: "Other parents are complaining about his behaviour, which is becoming more extreme and the teachers are struggling to deal with it. So Alison and Paul send him to another school in Manchester that has a special facility, but they are in different mindsets about it and it throws up curveballs especially as Alison goes with Joe and Paul stays to run his gastropub so they have a fractured lifestyle."
Morven: "It starts a rift in Paul and Alison's relationship and they are on different emotional paths and spending time apart. It's a common story in families with autistic children because people handle it in different ways and that causes conflicts but it still surprises her when it all starts to unravel…"
TVT: What do you love most about working with Max Vento, who plays Joe?
Lee: "Sometimes you have to remind yourself that he is just a kid and he wants to have fun on set and we have to say, 'No, you're Joe now. Stop being so lively!' But he does his job brilliantly; he staggers me".
Morven: "He has such a clear understanding of how to play Joe and a way of switching it on and off because he's such a responsive boy while Joe isn't. I love his company and I'm very protective and maternal towards him. We play a lot and do Snapchat filters together."
TVT: Why do you think the first series captured viewers' imaginations?
Lee: "It felt like it mattered. The show doesn't have any police procedure or car chases or open-heart surgery; it is just about people and it makes you laugh and cry. I see my own family reflected in it with their foibles and struggles and that's what appeals to everyone."
Morven: "There's so much love and warmth in it too and it was a story that we hadn't seen on TV before about a family dealing with autism. It's really important that something 'other' became mainstream so I'm very proud of it."
The A Word has been a huge hit for the Beeb
TVT: What reaction have you had from the autism community?
Morven: "There was real acknowledgment and gratitude. Some people had a negative reaction to Alison but I also got incredible letters from mums who'd been in that situation and they just said, 'Thank you', because it felt truthful to them. I had conversations too with my friend whose son is on the spectrum. She said that when he's on the Tube wearing his Ear Defenders, people just smile at them now so the impact on her was transformative."
Lee: "I had a woman write to me and say, 'Thank you', because after seeing that Joe had never been invited to a party, her child was invited to his first ever birthday because other parents suddenly understood he was different rather than odd. It makes you feel like you're doing good."
TVT: Could there be a third series?
Lee: "I think so. The writer, Peter Bowker, has an idea of being like Boyhood [the 2014 film following a child over 12 years], where you keep coming back two years later as Joe grows up and we see where we are now. I'd really like to do it."
Caren Clarke
Get the latest updates, reviews and unmissable series to watch and more!
Thank you for signing up to Whattowatch. You will receive a verification email shortly.
There was a problem. Please refresh the page and try again.