Mr Selfridge's Jeremy Piven: 'It's Harry's downfall, but it's not so dark that people will turn off'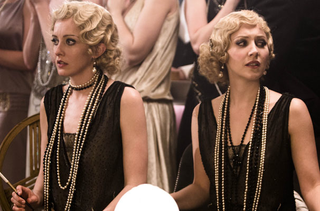 While TV Times is browsing treasure-filled displays on the set of ITV's period drama Mr Selfridge, a jolly Jeremy Piven appears on the shopfloor for a chat...
So, do you think the final series is the best?
"There's so much going on. All the seeds we've planted with the characters and their relationships finally come into fruition. It's nice to feel the pressure of honouring what we've done before and making sure we get it right. I'm so proud of this show, and I really do believe this series is the best."
It's now 1928 and business is flourishing for Harry, but those who know the true story of Mr Selfridge will expect his fortune to fade, and fast…
"It's not necessarily the prettiest of third acts for Harry. It's his downfall, yes; but we don't want the show to get so dark that it turns people off, so we take some chances with the story."
Your make-up makes Harry look about 70!
"Technically, he was supposed to 52 in the first series, but we've embraced some dramatic licence to tell the story. By the time we see him here, he's been knocked down many, many pegs."
Two show-stopping, dancing sisters contributed to Harry's downfall in real life. Are their expensive tastes and gambling habits as influential in the show?
"He can't help himself. Ultimately, the Dolly sisters represent fun and youth, plus they're performers and Harry fancies himself a showman, but his theatre is retail, so when he's around other people in the arts, he's enamoured of them. That's why he fell for a showgirl."
And just what does this romantic engagement mean for him?
"He gets tangled up with the Dolly sisters and there are many tragic moments to come, but at the same time, there is hope for Harry. He's always been very optimistic, which is one of the reasons I love playing him."
You won't reveal exactly how much the final series will mirror Harry's real-life road to ruin, but it's a sad rags-to-riches-to-rags story...
"I have a lot of empathy for Harry and feel very protective of him. He was such a fascinating character, a trailblazer. He'd go and do whatever he wanted, and that's what made him so special. That's why the store exists still to this day."
Will you miss his London life when you head back to the US?
"Oh, yes! The museums, architecture, theatres and fantastic football matches… there's so much to do here. However, I'm lucky enough to live near the Sherlock Holmes Museum, and if there's one thing I won't miss, it's that queue! I'm a huge fan myself, but not so much that I'd spend all day queuing to see a fictional home."
We're sure it's not so bad!
"There is one saving grace – I pass through that line every day and they don't even notice me."
But how does a Golden Globe and three-time Emmy-winning actor ever manage to go undetected?
"I usually wear a hat and glasses, look at the ground and pretend I've lost something. No one wants to approach the confused guy. It works every time!"
You've given the game away!
"If you want to know where to find me, I'm wandering outside the Sherlock Holmes Museum, looking like I've lost something…"
Get the latest updates, reviews and unmissable series to watch and more!
Thank you for signing up to Whattowatch. You will receive a verification email shortly.
There was a problem. Please refresh the page and try again.