Natalie Gumede: 'When an actress is given a gift of a part like Jekyll & Hyde, you run with it!' (VIDEO)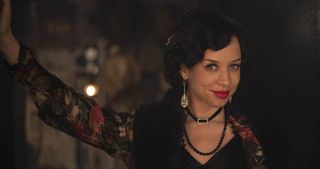 Former Coronation Street star Natalie Gumede says her role as Hyde's girlfriend Bella in ITV's Jekyll and Hyde is 'a gift of a part' and a bit of a TV rarity – a strong role for an actress.
Natalie talked to What's on TV about the ambitious thriller series, created by The Fast Show star Charlie Higson, a 1930s reboot of the classic Jekyll & Hyde tale incorporating global espionage and sci-fi monsters .
She said: "What a brilliant gift Charlie has given everybody within the show. When we sat around the read-through table and saw the mix of people playing these wonderful rich characters, we thought, we're part of something quite magical here.
"Like it or not there are not always strong female characters to play. We do sort of have to fit into smaller and smaller boxes that perhaps our male counterparts as actors don't always have to do, so when we're given a gift of a part like this, that Charlie's created and ITV has put together, you run with it, you know – this is a wonderful opportunity."
Natalie first came to the public's attention playing unhinged Kirsty Soames in Corrie before excelling in Strictly Come Dancing in 2013.
Watch Natalie talk about Jekyll and Hyde and reveal who she thinks would win in a punch-up between Bella and Jekyll's girlfriend, Lily (Stephanie Hyam). "]
Jekyll and Hyde continues on ITV on Sunday.
Get the latest updates, reviews and unmissable series to watch and more!
Thank you for signing up to Whattowatch. You will receive a verification email shortly.
There was a problem. Please refresh the page and try again.