Netflix's 'Love Death + Robots Volume 2' gets a Red Band trailer
Which really is the way it should be presented.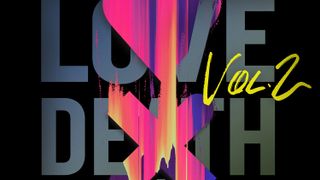 (Image credit: Netflix)
This is more like it. We've got a Red Band trailer for Love Death + Robots Volume 2 on Netflix, which means a couple things. First is that this ain't for kids. But, then again, neither is Love Death + Robots. Second is that it means you're going to get a better taste of what's in store when the animated anthology returns on May 14 with eight new episodes.
If you're new to the series, we can sum it up in two names: Tim Miller, and David Fincher. As in, the director of Deadpool, and David freaking Fincher. (Seven, Alien 3, The Game, Fight Club — all those uppers, and then some.)
The official line from Netflix goes like this:
Otherworlds, naked giants and robots-gone-wild clash in this anthology of adult animated stories executive produced by Tim Miller, David Fincher, Jennifer Miller, and Joshua Donen.
So, yeah.
Just like the first installment — which spanned some 18 episodes — this time around will also keep things relatively short, with the longest of the new additions weighing in at just 15 minutes. And if you're rightly disappointed at the thought of only have eight new stories to chew on, know that there are eight more coming behind these in the near future.
Here are the new episodes we have to look forward to:
Pop Squad, directed by Jennifer Yuh Nelson: In a future where resources are controlled by the rich, "unregistered offspring" are forbidden by the state. A police officer charged with enforcing population control faces a crisis of conscience.
Life Hutch, directed by Alex Beaty: When his ship is damaged in battle, a combat pilot (Michael B. Jordan) crash-lands on a desolate planet. Fortunately there's an automated shelter on the surface he can take refuge in until rescue arrives … if he can survive that long.
Ice, directed by Robert Valley: In a future where many humans are enhanced with extraordinary strength and endurance, the "unmodded" feel left behind. This class-conflict drives a rift between two brothers that puts their lives at risk during a dangerous race across the frozen sea of their colony world.
The Tall Grass, directed by Simon Otto: When a train makes an unscheduled stop in the middle of nowhere, a lone traveller is lured into the surrounding fields by drifting, ethereal lights. But his curiosity may prove deadly when he discovers the hellish source of the illumination.
Automated Customer Service, directed by Meat Dept (Kevin Dan Ver Meiren, David Nicolas, Laurent Nicolas): Some senior citizens are lucky enough to enjoy their golden years in tomorrow's high-tech, assisted living communities. They pursue relaxation and spiritual fulfillment, their every need taken care of ... until their robotic servants decide to kill them.
All Through the House, directed by Elliot Dear: On Christmas Eve, a young girl and her little brother lie awake, too excited to sleep. When a jingle of bells announces Saint Nick's arrival they sneak downstairs hoping to catch a glimpse of the mythical gift-giver… but find something far less jolly than they expected.
The Drowned Giant, directed by Tim Miller: When a two hundred foot tall naked body washes ashore outside a small fishing village, crowds gather to witness the spectacle. A local scientist documents the leviathan's surrender to nature while the miraculous becomes first mundane and then forgotten entirely.
Snow in the Desert, directed by Leon Berelle, Dominique Boidin, Remi Kozyra, and Maxime Luere: On an arid, scorched planet at the edge of galactic civilization, an ageless albino named "Snow'' is hunted by an assortment of hired killers. But after a beautiful stranger named Hirald saves his life, she reveals her own plans for him, but keeps some secrets of her own.
Get the latest updates, reviews and unmissable series to watch and more!
Phil spent his 20s in the newsroom of the Pensacola (Fla.) News Journal, his 30s on the road for AndroidCentral.com and Mobile Nations and is the Dad part of Modern Dad.
Thank you for signing up to Whattowatch. You will receive a verification email shortly.
There was a problem. Please refresh the page and try again.