A Nightmare On Elm Street's Freddy Krueger in episode of The Goldbergs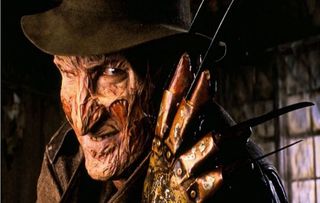 "One, Two...Freddy's coming for you!" Just in time for Halloween, iconic movie killer Freddy Krueger returns in an episode of E4 sitcom, The Goldbergs
Fans of E4's 80-set sitcom The Goldbergs will want to watch out for a special Halloween episode featuring a fright-tacular appearance from Freddy Krueger, played by none other than Robert Englund.
Robert played the iconic killer in the original horror classic A Nightmare On Elm Street back in 1984 followed by several sequels. But he hasn't played the creepy character since 2003's Freddy vs Jason.
However, Adam F Goldberg, the creator and Executive Producer of The Goldbergs has revealed he is a huge fan of Freddy Krueger and was determined to have the character make an appearance on the small screen.
"Every year I say to the writers, 'Let's take the shot and try and get Robert to be Freddy,'" series creator and executive producer Adam says in an interview with Entertainment Weekly. "So this year I took the shot. It's just one of those bucket list things to try and do this Freddy episode."
He finally got his wish with this year's Halloween episode, in which Adam and his mum Beverly are both haunted by the razor-sharp killer after teenager Adam watches the original A Nightmare On Elm Street without his parents permission.
The Halloween episode with Freddy Krueger will be shown in the UK at a later date. But check out the sneak peak below!
https://youtu.be/ab9lOTMAOKw
Catch double-bills of The Goldbergs weekdays from 5:00pm on E4
Get the latest updates, reviews and unmissable series to watch and more!
Thank you for signing up to Whattowatch. You will receive a verification email shortly.
There was a problem. Please refresh the page and try again.