Lee Mack's hit comedy Not Going Out to return for a new series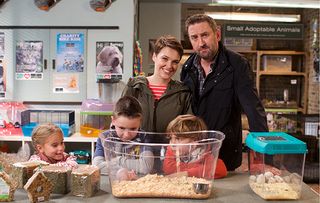 Lee and Lucy head to a pet shop in the ninth series of Not Going Out
Lee and Lucy are back for more family mayhem as Not Going Out returns for a new series in March.
When the show originally started way back in 2006 it was all about Lee's life as a single man, but now Lee and Lucy are of course married with kids Charlie and twins Benji and Molly - the family's most recent adventure was in a Christmas special where Lee faced a present disaster.
The new seven-part BBC1 series, starring Lee Mack as Lee and Sally Bretton as Lucy, will see the family "crashing from one near-disaster to the next".
The family were last seen in the show's Christmas special
The first episode of the new series will see Lucy's father Geoffrey (Geoffrey Whitehead) reluctantly allowing Lee to help Lucy clear up the builder's mess in their new kitchen extension.
Other storylines include a truly terrifying insight into the marriage of their best friends Toby (Hugh Dennis) and Anna (Abigail Cruttenden) and the family getting a family pet to teach the kids more responsibility – what could go wrong there?!
Asked why he had changed the show from one about a single man in London, to one about family life, Lee once said: "Now I'm actually playing my own age roughly, rather than younger than I am, which is nice. Also I was running out of gags about a bloke who fancies his landlady!"
Also back are Lee's thoroughly useless father Frank (Bobby Ball) and Deborah Grant as Lucy's mum Wendy.
Get the latest updates, reviews and unmissable series to watch and more!
Thank you for signing up to Whattowatch. You will receive a verification email shortly.
There was a problem. Please refresh the page and try again.