Odyssey star Anna Friel: 'They told me I'd be tortured in every imaginable way'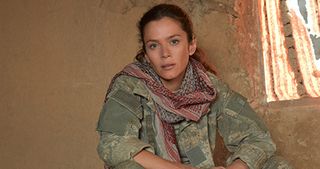 (Image credit: Virginia Sherwood/NBC)
In the 20 years since the actress Anna Friel (opens in new tab) departed the Merseyside soap that put her in the headlines thanks to her 'lesbian kiss' storyline, she's graduated to the big screen, appearing opposite the likes of Ewan McGregor and Christian Bale, graced both West End and Broadway stages, and joined the migration of top British talent to American TV.
The 38-year-old has already earned a Golden Globe nomination for her performance in the critically acclaimed comedy-drama Pushing Daisies. From this week, she appears in a very different guise in BBC2's Odyssey (opens in new tab) (premieres on Sunday), a new Homeland-style conspiracy thriller about a cover-up involving the US military, a major American corporation and the war on terror.
TV & Satellite Week (opens in new tab) chat to Rochdale-born Anna who's come a long way since her days as Beth Jordache in Brookside…
What character do you play in Odyssey?
"I play Special Forces language specialist Sergeant Odelle Ballard, who finds herself in harm's way after downloading highly sensitive data linking a big US corporation to Al-Qaeda from the laptop of a terrorist commander her unit has killed in Mali.
"In episode one you see Ballard being blown up, beaten up and imprisoned before going on the run disguised as a Tuareg in north Africa. I look very battered and bruised rather than a primped and preened version of me you're more familiar with!"
Were you told it was a tough role to play?
"They told me I would be tortured in every single imaginable way. Although I was reluctant to cut my hair for the part, as any girl would be, but knew it was a necessity for the part. It was also a physically demanding role."
So how did you prepare to get into shape?
"For months I trained daily with a former soldier and ate every two hours to put on muscle. I even began running, which I always hated. I wound up tearing six ligaments, getting a corneal abrasion, throwing my back out, and dislocating my shoulder. It was gruelling, but it toughened me up."
You have a daughter, so did the distance filming in Morocco make you hesitate before accepting the job?
"North Africa is much closer to London than New York or Los Angeles, plus Odelle is an amazingly strong female character. I also loved that I had to learn Arabic; my father is a linguist and I already speak French."
Odelle's character is so different from the comedic ones you're best known for in the US...
"Playing Chuck on Pushing Daisies had its own tribulations. Sometimes playing the happiest girl there is and having to be that up and funny can also be hard. Playing so bouncy and positive can be difficult to maintain in the 17th hour of filming."
So how did appearing as the all-action Odelle, who is very much a woman operating in a man's world, compare?
"I definitely wanted to be one of the boys. I wanted to keep up with them and I had my own secret slogan – well, not mine, Shakespeare's actually: 'And though she be but little, she is fierce.'"
Get the latest updates, reviews and unmissable series to watch and more!
Thank you for signing up to Whattowatch. You will receive a verification email shortly.
There was a problem. Please refresh the page and try again.