Outcast star Philip Glenister: 'Reverend Anderson's a man of conviction... but he's also a broken soul'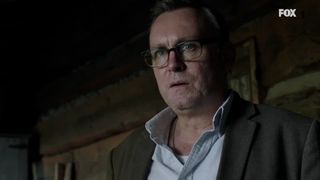 Philip Glenister is playing a troubled clergyman in Outcast, the new US supernatural drama from the people who brought you The Walking Dead, so we caught up with him to talk about the new show…
Tell us about your character, Reverend Anderson…
"He's a solider of god and he's on a mission to root out all the bad things in his town. He's a man of conviction, but he's also a broken soul in many ways, which we see as the series develops."
What has happened to him in his life?
"The reverend has ghosts in his past. Basically he put his mission and his work before his personal life so he has a broken marriage, he has estranged son in many respects. As the series develops he starts questioning his whole being and his whole faith and starts questioning whether he believes he's made the right decision and whether he believes in what he's doing any more."
How does he meet Kyle Barnes?
"He's known Kyle Barnes for many years. Kyle's mother was possessed by demons when he was little and everyone has mistrusted him since then. In a funny sort of way the Reverend knows more about Kyle than anybody else because he was there at the time his mother was possessed and carried out the exorcism. Reverend Anderson is Kyle's mentor in many ways and they soon realise they both need each other."
What can you tell us about Kyle?
"Kyle possesses the gift, which is what Reverend Anderson wants all along, so there's this element of envy and jealousy, bitterness in a way that Kyle has this power that he doesn't."
Does Kyle see what he has as a gift?
"It's a double-edged sword for Kyle, he's reluctant to use it in many respects but then through necessity and what happens in the town, new characters coming in, he actually realises that he needs it more than ever. There are people that need to be saved!"
The exorcism scenes are very impressive, how were they to film?
"The exorcism scenes are really quite dull for actors, because they take two days to shoot. It's very bitty. The filmmakers didn't want to fall back on special effects, we wanted to do as much as we could with stunts and add in as little as possible. So it was very time-consuming! There was a lot of coverage and we had massive storyboards that the director would just cross off as we went. It looks great once it's all put together!"
Like The Walking Dead, Outcast is based on a comic, what did you know about the story before you started filming?
"I didn't know anything about Outcast the comic, but I knew it was the same chap who'd done the Walking Dead. I filmed my audition tape in the front room with my wife filming me, sent it to the States and they liked it enough to ask me over to meet the rest of the cast. So I said 'Yeah I think I can manage a week in LA!'"
Is your wife a good director?
"She's tough, very tough! But she was good actually – scarily!"
Do you watch The Walking Dead?
"I haven't watched any of The Walking Dead, but I knew of it because I know Andrew Lincoln a little bit. It's not really a genre that I would usually follow, but it seems to be so prevalent now. If you can't beat them, join them!"
What was it like filming in America?
"They do much longer hours. You can be working 17 hour days sometimes, which is pretty exhausting, but it's a five-day week. We started Monday at 8 in the morning and then go through to about 10 o'clock. Then Fridays we used to call Fraturdays, because we sometimes didn't finish until about 3 in the morning! But there is also a lot more money to put on to the screen. Because this is cable, we also had more artistic licence as to what we could and couldn't do. There weren't execs freaking out if we used the F-word!"
Have you watched The Exorcist?
"I have watched The Exorcist, I had it with me when I was on set but I resisted the temptation to watch it because I suddenly thought, I could start becoming Max Von Sydow. We all like being scared. One of my earliest memories was The Childcatcher in Chitty Chitty Bang Bang. As I child he scared the hell out of me! Cruella De Vil in Disney's 101 Dalmations. The Cybermen were pretty scary on Doctor Who, I remember me and my friend being very scared of them when we were seven!"
Outcast starts on Tuesday June 7 at 10pm on FOX.
Get the What to Watch Newsletter
The latest updates, reviews and unmissable series to watch and more!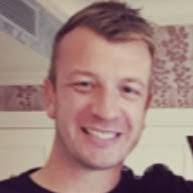 Feature writer for TV Times, What's On TV, TV & Satellite Week and whattowatch.com
Sean has been writing about all things telly for over 10 years and in that time he's been lucky enough to interview stars like Ian McKellen, Tom Hardy and Kate Winslet. His favourite shows are The Great British Bake-Off, People Just Do Nothing and Succession and in his spare time he enjoys drinking tea, doing crosswords and watching football.