Paul O'Grady reveals his top dogs from four years of For the Love of Dogs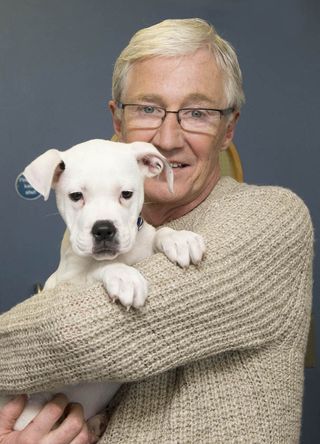 "Domestic servants had easier hours than me at the moment," laughs Paul O'Grady (opens in new tab), when we call him for a catch-up. "I'm knackered!"
Paul's demanding schedule has recently sent him to Borneo to film another series of Animal Orphans, before touring the UK for a new documentary about the Salvation Army, as well as writing a new instalment of his autobiography, recording his Radio 2 show and filming a Christmas special of For the Love of Dogs (opens in new tab), the final series of which ends on ITV on Thursday, December 10.
Perhaps this could explain Paul's recent shock announcement that the current series of the Battersea show would be the last?
"It's quite a tough job emotionally, because you can't help getting involved. I come home every night and I think, 'Oh that poor dog, I wonder if I've got room for one more,' and it can be seriously harrowing."
Which were Paul's favourite four-legged co-stars?
Eddie the Jack Russell/Chihuahua cross
Paul just couldn't resist tiny puppy Eddie… "I took him at the very last minute of the last shoot of that series. We went in to see this litter of puppies and I'd been told they'd all been rehomed. But Eddie hadn't. He was the runt and Rachel, the Head Vet Nurse, had to hand-rear him. She was really worried about him so I said, 'Oh give him here!' He's feisty now, a real character, but Olga is still in charge of my dogs – she's like Ma Baker!"
Tulip the Staffie
Paul always flies the flag for Staffies, and lovely Tulip almost made it into the O'Grady clan. "I love Staffies, they're such nice dogs. They're unbelievably affectionate and they always look like they're grinning! They're so funny. There have been so many that I've been mad for, especially Tulip. Unfortunately Eddie took great exception to her and beat her up, he was a nightmare, so she had to go back to Battersea. She was lovely."
Carmine the Boxer Dog
Carmine was brought into Battersea when he grew too large for his then-owners to handle. Paul still regrets not bringing him home to his farm in Kent.
"Carmine was definitely my favourite of all the dogs, I really do rue the day I didn't take him home with me. I loved that dog and we just clicked, he was smashing. He's got a great home now, but he came back to visit a year later and as soon as he saw me he was like a maniac. He's changed his name to Elvis!"
Dolly the Shih Tzu
Dolly proved a hit on the show as her severe overbite gave her a 'distinctive' look. But it wasn't long before she managed to charm a new owner…
'Ahhh Dolly with her teeth! Some dogs I look at and, with the best intentions, I wonder if they'll ever get a home. But someone falls in love with them, every pan has a lid.
"She was a typical Shih Tzu, they always have those big overbites, it's just that hers was a bit more pronounced. She was sweet-natured though, I don't think she was quite aware of the way she looked!"
Boycie the Shih Tzu
Epileptic Boycie got a golden ticket to Paul's farm when his family couldn't cope with his fits. "He's gorgeous. He's so loyal, he sticks to me like glue, and he's so like Buster, it's freaky sometimes. He was fitting every couple of days at first, but now I've got his medication sorted he only has about one a month. He's a hilarious dog."
Thank you for signing up to Whattowatch. You will receive a verification email shortly.
There was a problem. Please refresh the page and try again.