Paul O'Grady: My perfect Christmas involves yodelling Edelweiss from the top of a mountain!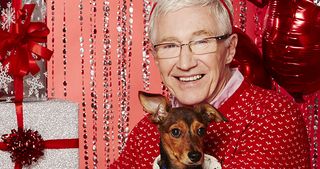 Ahead of this year's For The Love of Dogs Christmas special (ITV, Christmas Day), the last ever episode of the much-loved ITV series, host Paul O'Grady shares with TV Times his tips for a stress-free holiday season …
What would be your perfect Christmas Day, Paul?
"I went to Bavaria earlier in the year and was blown away by the beauty of the mountains so I'd like to go back in the winter when they're covered in snow, and spend Christmas in one of those ornate wooden ski lodges with a group of friends who wouldn't annoy me. Not that I'll be doing any skiing I hasten to add as I'd rather not go home head-to-toe in plaster.
"I'll be lying in front of a roaring fire watching one of the many DVDs that I've brought with me whilst being waited on hand and foot by the staff who came with the lodge. I'll eat my own body weight in Turkish Delight and have Tafelspitz for dinner washed down with a couple of bottles of local beer.
"And on Christmas Eve I'd stand on top of the mountain and yodel to the tune of Edelweiss, although there's a danger that the villagers might think its someone in distress and call out air rescue."
What's the first thing you'll do when you get up on Christmas Day?
"I used to love going to midnight mass on Christmas Eve, but for one reason or another I've never managed it the last few years, and this Christmas is going to prove to be no different as I'm in panto in Birmingham. I'll be driving home after the last show and won't get back until the wee small hours of Christmas morning.
"I might take this opportunity to dress up as Father Christmas and quietly creep upstairs to hang stockings on the end of everyone's bed, but then again I might just be mistaken for a burglar and end up either being attacked by the dogs or hit over the head with a frozen turkey.
"Having just done 10 shows in five days, I doubt if I'll be up at the crack of dawn, it'll be more like the screech of noon. We tend to eat dinner late in our house and I do the cooking and without wishing to sound too over-confident I don't know what all the fuss is about. A Christmas dinner is only a glorified Sunday roast and as long as you get your timings right and people don't interfere then you're laughing.
"Christmas Day is supposed to be a pleasant experience so resist the temptation to tell your irritating sister-in-law what you really think of her and don't have a nervous breakdown because the bread sauce is burnt."
Do you give your dogs anything special on Christmas Day?
"Please, never give your dog chocolate or 'that nice bone off the turkey' as it could kill them. I give my lot tennis balls, squeaky toys or my socks, although Eddie (pictured), who's a Jack Russell-chihuahua cross, would much prefer a small piece of Christmas wrapping paper that he can sit on and guard in case any unscrupulous canine foolishly tries to nick it from him, which they inevitably will try to do.
"Eddie lives in a small pyramid-shaped house meant for cats. I had a look in the other day and found amongst other things, half a dozen taxi receipts and my spare set of car keys and I'm now wondering if he's mini-cabbing behind my back!"
Thank you for signing up to Whattowatch. You will receive a verification email shortly.
There was a problem. Please refresh the page and try again.