Peter Capaldi: 'The Sonic Sunglasses have arrived because the Doctor loves Ray-Bans!'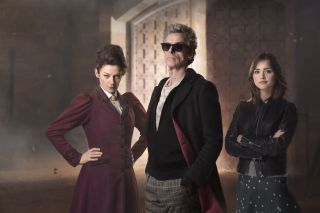 (Image credit: BBC)
In tonight's episode of Doctor Who, The Witch's Familiar, we saw the Doctor defeat the Daleks and Davros with the help of his all-new Sonic Sunglasses, which seem to have replaced the classic Sonic Screwdriver. For the time being, these special shades seem to be the Time Lord's gadget of choice, but fans haven't seen the last of the Sonic Screwdriver apparently...
"The Sonic Screwdriver hasn't gone," explains Peter Capaldi who plays the Doctor. "The Sonic Sunglasses are an adjunct to the Sonic Screwdriver and have arrived because the Doctor likes Ray-Bans! You press them and they go zzzzz and they do great things."
Peter also told What's On TV that while filming this latest series he was unaware of the greater story arc created by executive producer Steven Moffat…
"This year they've particularly kept me in the dark," says Peter. "It comes out through gossip because people have to put costumes together, and the crew generally walk around with scripts...
"Steven has always given me an evening when he's taken me through the whole series but in this instance I don't know what's happening at the end. I like that. I think it's easier. I'm not sure I'd be able to act better if I knew anyway."
Get the latest updates, reviews and unmissable series to watch and more!
Thank you for signing up to Whattowatch. You will receive a verification email shortly.
There was a problem. Please refresh the page and try again.