Pete's Peek | Gabriel Byrne and Charlotte Rampling shine in the London noir thriller I, Anna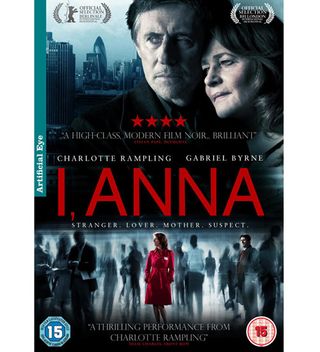 THE STORY When a man is found bludgeoned to death by an object a'rt in his fashionable London apartment, the lives of sixty-something department store worker Anna (Charlotte Rampling) and lonely detective Bernie Reid (Gabriel Byrne) become entwined as the cop begins to fall for the enigmatic Anna, who may or may be responsible for the murder.
THE LOWDOWN This London neo-noir, based on a novel by 1985 Elsa Lewin, takes its inspiration from the European 1970s arthouse films of the likes of Fassbinder, Polanski and Wenders, auteurs that were an inspiration to the film's young director, Barnaby Southcombe, who is also Rampling's real-life son.
The Brutalist architecture of London's Barbican Estate and the neon lights of the city's hotels give the film a stark 1970s ambience, while the permanently grey skies and Leonard Cohen-inspired soundtrack cast a grim pall over the proceedings, which only serves to highlight the internalised misery of Anna and Bernie.
Rampling is cooly engaging as the aloof Anna, who slowly comes to realise there is a much greater tragedy weighing on her psyche as she pieces together what really happened on the night of the murder; while Byrne is totally captivating as the insomniac copper desperately hoping Anna can fill a void in his life.
It might sound all doom and gloom, but it isn't. It does, however, have some rough edges (especially the big reveal, which comes out of nowhere). But thanks to Rampling and Byrne's gentle and beguiling turns, they're easy to forgive...
BEST MOMENT Honor Blackman's cameo as a fashionably dressed attendee at a single's night who gives Anna sex advice on how to keep a man happy. Naughty minx!
Released 15 April on DVD, from Artificial Eye
• Like the official I, Anna page on Facebook and Twitter to keep up to date with all the latest news from the film, read press pieces and enter exclusive competitions!
Get the latest updates, reviews and unmissable series to watch and more!
Thank you for signing up to Whattowatch. You will receive a verification email shortly.
There was a problem. Please refresh the page and try again.