Pete's Peek | Hunks are hauled over coals and babes get broiled in the trapped-in-a-sauna thriller 247°F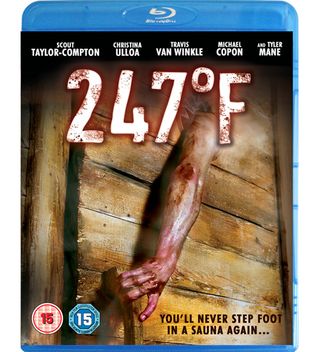 THE STORY At a lakeside cabin, three friends accidentally get locked inside a sauna by a drunken mate. But when the thermostat is damaged and the temperature starts to rise, it's not long before the trapped trio start to show their true colours…
THE LOWDOWN Given the film's single setting (a DIY-built sauna, which kind of freaks me out already), I was expecting this survival horror to run out of steam before too long, but it actually held my attention. Yes, it does follow the horror cliché of bad things happening to a bunch of vapid friends on vacation, and might not be a big game changer like Cabin in the Woods, but 247°F is a classy-looking addition to the survival horror genre given its modest budget.
With little action on offer, it's up to the actors (led by Scout Taylor-Compton, star of Rob Zombie's Halloween remakes) to internalise their ever-increasing fears of being trapped in such a confined space that's getting hotter by the minute; and the cast certainly prove to be more than just eye candy - despite some clunky dialogue. The ending, however, may disappoint fans of more grisly fare like The Descent, Open Water or Frozen, as it is less fatalistic in tone, offering a cautionary message about alcohol and drugs rather than any in-your-face final scares.
Released 18 March on Blu-ray and DVD, from Anchor Bay Check out the official Facebook page
http://youtube.com/v/kfQ1x-oVsLM
Get the latest updates, reviews and unmissable series to watch and more!
Thank you for signing up to Whattowatch. You will receive a verification email shortly.
There was a problem. Please refresh the page and try again.