Pete's Peek | Super 8 and the monster model kit craze that gripped the world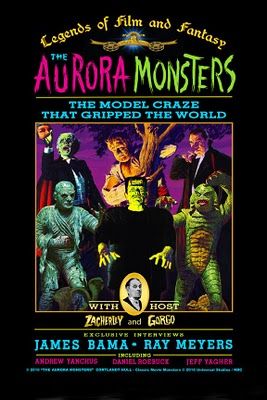 JJ Abrams' new film Super 8 has been touted as an homage to Spielberg's ET: The Extraterrestrial and The Goonies, with more than a nod to the work of Stephen King - particularly Stand By Me, IT and Salem's Lot. It's also a nostalgic look at being a film-mad kid in the 1970s, as seen through the eyes of 12-year-old Joe (Joel Courtney), whose bedroom is filled with movie ephemera – including a collection of movie monster model kits, that were all the rage with horror film loving kids in the 1960s and 1970s. And I count myself one of them.
Back in 1979 (the same year that Super 8 is set), I - like Joe - loved the movies and building monster model kits – especially those based on old school horrors like Frankenstein, Dracula and Dr Jekyll & Mr Hyde.
When I was 8, I got a secret Santa gift – a Glow in the Dark model kit of The Phantom of the Opera. With its hideous glowing face, featuring Lon Chaney's classic grimace, and the head and arm of a man chained up in what looked like a dungeon, it was probably the best present – ever! It also started me on my lifelong love of classic horror and film making.
Over the next several years, I added to my collection - Dracula, The Wolfman, The Mummy, Dr Jekyll as Mr Hyde and The Hunchback of Notre Dame. Four decades later, those kits are still with me. And I am not alone in my love for them, as anyone who grew up reading Famous Monsters of Filmland would agree. Even Tobe Hooper featured them in his 1979 adaptation of Stephen King's Salem's Lot (which I'm sure was an inspiration for Abrams, as you can see from the picture below).
With nostalgia all the rage these days, its about time someone gave tribute to these classic kits and so we come to The Aurora Monsters: The Model Craze That Gripped The World. Produced by Cortlandt Hull, the owner of The Witch's Dungeon, a wax museum in Connecticut dedicated to classic movie monsters, this new documentary explores how these kits came about and why they still endure.
The Aurora Plastics Corporation started off in the early 1950s creating slot racing car kits and model planes. Then, when the old Universal monster movie classics started screening on TV in the US, the company took the chance of producing monster themed model kits. After the success of their Frankenstein in 1961, Aurora went on to produce 12 other kits that would be issued and reissued in various designs until the early 1970s. These kits have since become coveted collector's items.
Filmed in the style of an old-school kids TV horror show and hosted by famed US horror host Zacherley - the Cool Ghoul, this Rondo Award-winning documentary is packed with insights (almost two hours worth) from Aurora's original creative team – the most fascinating being from Doc Savage illustrator/artist James Bama, who created the incredibly vivid box art (I so wish I had kept mine now). There's also contributions from the new generation of model makers like Sideshow Collectibles and Moebius, who are paving the way for a new wave of model kit building and collecting.
Like Super 8, The Aurora Monsters: The Model Craze That Gripped The World is a must for movie buffs, model fans and monster kids (of all generations) alike! Now, where can I get my hands on an original Bride of Frankenstein kit?
Click here to read Jason Best's review of JJ Abrams' nostalgic adventure http://youtube.com/v/q_j5vq6zxGA
Get the What to Watch Newsletter
The latest updates, reviews and unmissable series to watch and more!