Christian Brassington loves playing odious Ossie in Poldark, but says: 'No one can compete with Biggins!'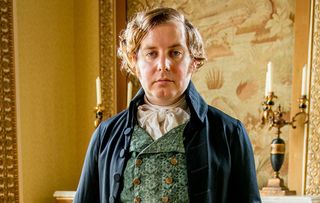 (Image credit: Mammoth Screen / BBC)
Christian Brassington chats about stepping into Christopher Biggins' shoes as Poldark's villainous vicar Osborne Whitworth
For fans of the original 1970s Poldark series, Reverend Osborne Whitworth was the man they loved to hate. So when Christian Brassington was cast as the wicked, sex-crazed vicar, he had a mammoth challenge ahead, not least because his predecessor Christopher Biggins made the character so loathsome and larger-than-life.
However there's no dispute that Christian's doing a grand job filling Ossie's flamboyant breaches since making his debut in episode four of the third series.
Here, in an exclusive interview with TV Times, he reveals why playing Ossie was a weighty role, in more ways than one…
Why did the role appeal to you? "Ossie is a treat to play because he's a man of huge appetites in all aspects, someone who is larger than life and also larger in life!"
Viewers might think Ossie's a comedy character, but now he's hitched to lovely Morwenna, he'll soon show his true colours… "I hope people have thought he's a bit ridiculous and a buffoon. And then – I can't say too much! – the pay-off hopefully will be great…"
How did you find filming with Ellise Chappell (Morwenna)? "It was great, but occasionally tricky when I had to be mean because she's lovely. Afterwards I would say: 'I didn't mean it!'"
Are you ready for the disapproval you might get on the street? "Ha! I look very different from when we filmed it as I've lost weight and I've got a beard now. So I don't know if people will spot me, which might save me from getting boos and hisses! But if that does happen, it's a great compliment."
Could you handle being named the most hated man on TV, like Christopher was? "It's much more fun playing a baddie, and if I'm bestowed with that accolade, it'll be lovely. But no one can compete with Biggins!"
How did you put on the weight for the role? "I should have done it in a healthier way, but it was ice cream, lager, red meat and potatoes. I also drank lots of protein shakes and did big weights in the gym. Putting it on was easy; it's the losing it that's the problem. I have worked it out with a nutritionist and personal trainer, but it's much easier to sit here eating a burger than go for a run."
Do you like Ossie's flamboyant and colourful costumes? "I really do. There's a floor-length, silky, dressing gown, which I absolutely love because it's so over-the-top and gaudy. For Ossie to have that grand a wardrobe is nice because we haven't seen that with the male characters before. Every item of Ossie's clothing is just slightly too small for me to accentuate my curves, say we say. Anyone within a two-metre radius of me was always in danger of losing an eye from a button flying off!"
Get the latest updates, reviews and unmissable series to watch and more!
Thank you for signing up to Whattowatch. You will receive a verification email shortly.
There was a problem. Please refresh the page and try again.