Poldark star Aidan Turner says taking his top off was "a huge mistake"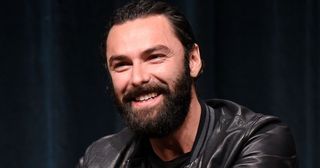 Aidan Turner reveals it was his idea to take his shirt off in BBC1 hit Poldark, but thinks the decision was "probably a huge mistake."
When Cornish hero Captain Ross Poldark whipped his shirt off for a spot of scything in the sun last year the internet went into meltdown. The sight of Aidan Turner's perfectly honed abs was the TV moment of 2015. Nine million people tuned in to Poldark, thanks to its swarthy leading man.
But Aidan Turner, who plays Poldark in the BBC1 drama, has revealed that the writers never intended for him to be topless. "It was my idea to take my top off," Aidan told the Daily Record. "It was probably a huge mistake.
"But Poldark's out in the fields, it's a really hot day, there's a lot of work to do," he explains. "It just wouldn't have made sense with the top on.
"It was never supposed to be sexually provocative.
"So when the show came out and it all kicked off I was a little bit surprised."
If Aidan never expected to be a sex symbol, it's certainly done no harm to his career, or the success of the Bafta-winning BBC1 drama.
"It wasn't the worst thing that could have happened to us though, because it kind of put the show on the map and people started to tune in," says the 33-year-old.
The Irish actor, who first made a name for himself playing a vampire in BBC3's Being Human, has seen his career rise spectacularly since starring in Poldark. So much so, he is now among those rumoured to play James Bond in the next 007 film.
Although, he's keeping quiet on the subject: "It seems like it's the Judas kiss – once you comment on it, it disappears. It's a hugely coveted role. Let's see how it goes."
Series two of Poldark returns to BBC1 on Sunday, September 4.
The BBC is already planning a third series of the drama, set in Cornwall.
Based on the novels of Winston Graham, the drama was originally made for TV in the 1970s when it attracted audiences of 15 million.
Get the latest updates, reviews and unmissable series to watch and more!
Thank you for signing up to Whattowatch. You will receive a verification email shortly.
There was a problem. Please refresh the page and try again.