Poldark's Gabriella Wilde: 'I wanted to steal Caroline's pug Horace!'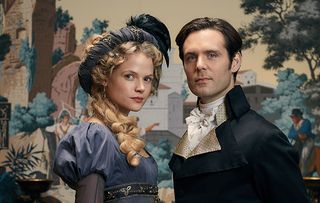 (Image credit: BBC/Mammoth Screen)
Gabriella Wilde reveals her love for Horace and the struggles of being a mum while working as an actor…
Gabriella Wilde has loved playing Poldark's Caroline Enys, but she hasn't found it easy. She was pregnant during the first series, with Caroline's pet pug Horace neatly hiding her bump. Since then she's had to juggle parenting and playing Caroline, which has often meant long hours away from home.
In an exclusive interview with TV Times, Gabriella Wilde, 30, reveals how she coped, the tests that Caroline will face this series, and why she'd love to take Horace as a memento...
TVT: Caroline and Dwight had an awful time with the loss of their baby daughter last series. How's their marriage now?
Gabriella Wilde: "Since losing baby Sarah it's not as it was before and that still hangs in the air. Their relationship is fragile from what they've been through and they're trying to make their way back to each other without really knowing how. There are still a lot of wounds there that aren't healed and they're definitely tested again. Having said that, there's a nice ending for them!"
TVT: What is it that tests them this time?
GW: "Well, Ned Despard's wife Kitty gets close to Dwight, which triggers insecurities that towards the end reveal themselves to be more about losing Sarah than anything else – but it takes them a while to make sense of that!"
TVT: Ned also seems to be leading Ross astray. Is Caroline protective of Demelza?
GW: "Caroline wants to help Demelza stop Ross getting so involved – they're very involved in each other's relationships! I think their friendship grows further this series and there's a great loyalty there. She's Caroline's only female friend so there's a real love there I think."
TVT: How did you feel about it being the last ever series?
GW: "Actually, I've had a bit of a mad time on this what with being pregnant in the first series, which was so tiring! Some of it was a bit of a blur to be honest. But that kind of marks how long it's been, thinking that I was pregnant when I started Poldark and that my son's almost three now!"
MORE: Luke Norris: 'Saying goodbye to Dwight and Poldark is like leaving school!'
TVT: It hasn't been easy then…
GW: "No, it's not been easy and it's particularly tough in this industry to have children and work, but I've been very lucky to have been able to have my son on set with me. It's been a great job in terms of all the people who have seen me through that period!"
TVT: Were you allowed to take anything from set as a memento?
GW: "I wanted Horace! If I'm not allowed Horace then nothing!"
Interview by Hannah Davies
Get the latest updates, reviews and unmissable series to watch and more!
Thank you for signing up to Whattowatch. You will receive a verification email shortly.
There was a problem. Please refresh the page and try again.