Which Star Trek character are you?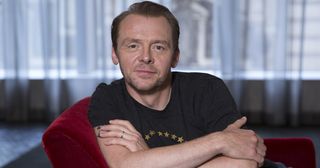 Star Treking across the universe... Are you a Klingon on the starboard bow or an heroic Captain Kirk? Take this easy quiz to find out which character you are most like!
Star Trek fans this way...
Star Trek fans... If you've enjoyed this quiz why not share it with your friends.
SIMON PEGG INTERVIEW
If Simon Pegg wasn't one of Hollywood's most in-demand comic actors, he'd have gone down a very different route. "I always wanted to be a vet," he told TV Times. "Then I found out you had to be good at numbers and they were never my strong suit."
At least Pegg had his acting career to fall back on – and a very successful one at that, thanks to the sitcom Spaced and movie comedies like Shaun of the Dead.
"It was down to luck really," he said modestly. "We just wanted to make films that we would enjoy ourselves – and it just so happened that a lot of other people wanted to watch them, too."
One of those people was JJ Abrams, who was so impressed with Pegg's work that he offered him a role as tech wiz Benji Dunn alongside Tom Cruise in the Mission: Impossible movies.
Abrams then invited him to play Montgomery 'Scotty' Scott in his 2009 Star Trek reboot.
When Pegg was cast, he made sure that he didn't just mimic the performance of original actor James Doohan. "It would have been a disservice to James to do that," said Simon.
"'I didn't want Scotty to be a comic character, because he also goes through some pretty serious stuff."
It's a role that has become close to Pegg's heart. His third movie, Star Trek Beyond, is released in cinemas in the UK this Friday, while Sky Greats becomes Sky Cinema Star Trek on Monday, showcasing the sci-fi classic as part of its 50th anniversary.
Simon has also taken on the responsibility of writing duties on the new $200million blockbuster, which sees the crew of the Enterprise marooned on an unknown planet after a surprise attack by a wave of vicious alien predators.
"Nothing I've ever worked on before as a writer has ever had a prior legacy like this," he said. "Being handed the keys to the Star Trek universe has been such an honour. It's a very daunting prospect."
Despite being known for his comedies, Simon is quick to reassure Star Trek fans that the new movie won't just be filled with gags.
"It's not a comedy, but we wanted to make it fun because the ideology of the original series was bright and optimistic. That doesn't stop it from having nail-biting jeopardy and genuine threat. You're going to be on the edge of your seat, with a side of humour."
DID YOU KNOW?
Canadian-born James Doohan, who played the original Scotty, not only gave the Scottish Chief Engineer an Aberdeen accent, he also supplied all the male voices to the 1970s animated series. Doohan's Scotty inspired many fans to pursue careers in engineering. Astronaut Neil Armstrong, the first man on the Moon, thanked him for his contribution.
The iconic catchphrase 'Beam me up, Scotty', was only ever used in the animated series, while in Star Trek IV: The Voyage Home, Kirk says, 'Scotty, beam me up.' Since his death, aged 85 in 2005, some of Doohan's ashes have been launched into space on three missions.
Chris Doohan currently plays his father's character in the web series Star Trek.
Get the latest updates, reviews and unmissable series to watch and more!
Thank you for signing up to Whattowatch. You will receive a verification email shortly.
There was a problem. Please refresh the page and try again.