Rachel Keller: FOX's superhero series Legion owes a lot to Swinging London (VIDEO)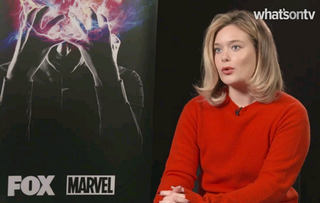 Legion star Rachel Keller reveals FOX's superhero show Legion pays homage to the days of Pink Floyd and Carnaby Street
Rising star Rachel Keller says FOX's new superhero series Legion owes a lot to British music and fashion from the 1960s.
Based on a Marvel Comics character from the X-Men universe, Legion tells the story of psychiatric patients David Haller (Dan Stevens) and Syd Barrett who form an intimate relationship as they explore whether David is mentally ill or possesses astonishing superpowers.
Rachel Keller, who plays Syd, told What's on TV her character's name is a nod to the troubled musician of the same name who played with Pink Floyd until 1968.
Rachel said: "The [Pink Floyd] album The Dark Side of the Moon has influenced the music of the piece. Just hearing their songs and reading about Syd's relationships with his bandmates was incredibly helpful for me – almost as incredible as the comic books were."
For her own retro outfits in Legion, Rachel drew on French actress Brigitte Bardot for inspiration.
"We loved looking at Brigitte Bardot and 1960s silhouettes, the black clothing, the flash of colour, the hair, the headbands," she said. "When you look at a world that looks a little retro, but also a little futuristic, it affords you a believability into the world, a way into the world, because it is different from what we know."
Legion is the second time that Minnesota-born Rachel has worked with producer Noah Hawley after getting her big breakthrough as a 1970s femme fatale in the second series of Fargo, which was set in her home state.
"Fargo was a dream… In the auditions, I thought, 'Well I have the accent in my back pocket.' All I had to do was call my mom and I clicked back into Minnesota."
Legion premieres on Fox UK on Thursday, February 9
Get the latest updates, reviews and unmissable series to watch and more!
Thank you for signing up to Whattowatch. You will receive a verification email shortly.
There was a problem. Please refresh the page and try again.