Rashômon (1950) | Blu-ray release | Let Akira Kurosawa's period drama ignite your imagination all over again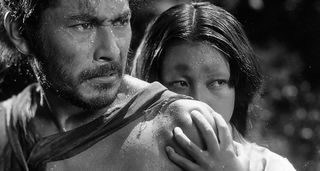 Winner of an honorary Best Foreign Language Film Oscar, the compelling 1950 Japanese drama, Rashômon, ranks among director Akira Kurosawa's masterpieces.
In feudal Japan, a bandit, a dead samurai, his wife, a woodcutter and a priest give varying accounts of an ambush, rape and a murder. But is anyone telling the truth?
Unfurling his tale through different eyewitnesses, Kurosawa skilfully examines the nature of truth and experience (basically don't believe anything you hear). A visual feast for the eye and ear, and featuring commanding performances - especially Toshiro Mifune as the bandit, this is story telling at its most masterful and a hugely influential cinema classic that begs revisiting.
The BFI 2015 Blu-ray release features the film restored in high definition, with the follow special features…
• New audio commentary by Kurosawa expert Stuart Galbraith IV
• Rashômon at 65 New 34-minute location documentary featuring interviews with former staff from the Daiei-Kyoto Studios
• John Boorman on Rashômon (6mins)
• Illustrated booklet
Get the latest updates, reviews and unmissable series to watch and more!
Thank you for signing up to Whattowatch. You will receive a verification email shortly.
There was a problem. Please refresh the page and try again.