Robson Green strikes back!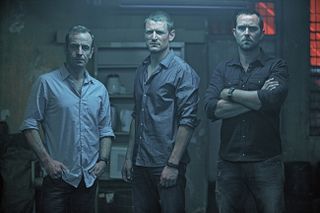 Robson Green (above left) returns to our screens as Section 20's new commander in Sky 1's high-octaine military drama Strike Back: Shadow Warfare (Mondays). He talks to us about his character's death wish and how he based him on his old man..
You're playing a soldier again?
"Yes I know! Although I'm a Lieutenant Colonel now. I was a private in Soldier Soldier 20 years ago, I'm now an 'SAS God' apparently!"
Tell us about your character Phillip Locke...
"He's been there done it all, all over the world, but now he's stuck in an office in Whitehall, just pining to get dust on his boots again. He can't stick the deskjob - he's looking for any excuse to get back out into the field."
So it's not long before he joins Sgt Michael Stonebridge (Phillip Winchester) and Damian Scott (Sullivan Stapleton) - seen above - out in the field. But he's hiding something from them..
"He's also got a very corrosive dark secret that manifests itself throughout the series. He worked undercover with the IRA - the old enemy - and they're joining hands with some of Section 20's more contemporary targets. As such Locke has one last chance to seek out his nemesis."
What is he seeking revenge for?
"I can't say too much, but when your nearest and dearest are killed it's a corrosive emotion and he just doesn't talk about it. On the outside, Locke is full of confidence, fearlessness and courage. He has respect for the two lead guys, but he's on a mission and there's a deathwish about him, which is great fun to play. He just doesn't care."
Who did you base the character on?
"Locke is partly based on my father, who was the hardest man in our village. He was a miner, a leader of men, underground in a very dangerous environment. He demanded respect, wouldn't tolerate a nuisance and unity was everything. If you didn't have it lives would be lost."
How does he get on with Stonebridge and Scott?
"He understands and respects the guys and trusts them to go out and do a great job. He knows they will make the ultimate sacrifice for the greater good. Like the lads, he's been very close to someone in a combat situation - but he's lost that person. He sees the potential for the same thing happening to his lads and he knows how painful it will be for them because they're joined at the hip. There's an unspoken love between them."
Is it true you were only supposed to be in a few episodes?
"Yes I'd only signed up for four episodes - I was meant to say one line in episode one, a couple in episode three and a bit in five and seven. The one line turned into a three-page speech! I found out about that three days before heading out to South Africa for my first day on set. I panicked a bit!"
There are some great guest stars in this year's series as well, aren't there? Martin Clunes, Dougray Scott...
"Yeah it was great to see Dougray again. He was my colonel in Soldier Soldier, but he's a bit of a villain in this!"
It's an action-packed series, was it fun to film?
"Yeah it's great fun to do. I've never come across drama like this before. I've done gunfights, but this is something very different! I had a pistol in Touching Evil and every time I fired the gun on set, it was a really big thing. They'd be like 'Today's the day when you're firing a couple of bullets'. We used 17,000 rounds during this series so it was a real eye-opener! We have explosions the size of large buildings, train crashes and at one stage I was haging out the side of a helicopter with a machine gun! It was awesome!
...amid all the bullets, we hear you were the first casualty during the shoot?
"I slipped disc before we started filming, I was in training for the part and it was my second week on a rowing machine when I did it. I was trying to keep up with Sully and Phil!"
Get the latest updates, reviews and unmissable series to watch and more!
Thank you for signing up to Whattowatch. You will receive a verification email shortly.
There was a problem. Please refresh the page and try again.