Rowan Atkinson: 'Maigret is an ordinary guy doing an extraordinary job'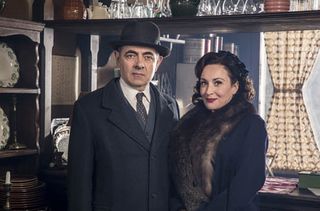 Rowan Atkinson tells TV Times about the challenges of playing it straight as the legendary fictional French detective Chief Inspector Jules Maigret (ITV, Easter Monday).
Why did you decide to take on the role?
"It took me weeks and months to decide. I don't think you can decide to play the leading role in a mainstream ITV drama without being reasonably certain that you can play the part – possibly as well as it can be played."
What are the particular challenges of playing Maigret?
"The problem with Maigret is that he hasn't got a limp, a lisp, a French accent, he has no particular love of opera – or any of those other things that people tend to attach to fictional detectives. He's just an ordinary guy doing an extraordinary job in a very interesting time. Post-war Paris in the 1950s is awash with guns, crime and racketeering."
So quite different from Mr Bean then?
"This is quite a contrast from a very physical comedy performance. I tend to play rather odd men or people who are more characterised – more odd, eccentric or with a more particular attitude to life. I'm always quite nervous about playing characters who have been played before. In many ways it's more fun to create a character from scratch, but if everyone followed that rule, no one would ever play Hamlet or any of the other great roles that exist."
How did you find Maigret's pipe-smoking?
"All he's got in terms of a physical thing to hang on to is his pipe. And I used to smoke a pipe when I was a student – sad as I am to admit that – so I vaguely knew what to do."
So what else sets him apart from other TV detectives?
"I thought Maigret was different to any other TV detective. It's not Morse, A Touch of Frost or Midsomer Murders. The period and the setting help, and the tone of Simenon's writing is interesting – quite dark, seedy and sleazy."
http://www.youtube.com/watch?v=0QLxIBkewLw
How was your approach different from that you'd take for a comic role?
"The job of acting is the same, whether it's comic or serious. Whatever character you play, whether it's Mr Bean or Blackadder, the job they all have to do is to tell the story. You're trying to find a truth in the character to enable the story to be told."
In this week's first film, Maigret Sets a Trap, we also meet his wife, played by Lucy Cohu. How would you describe their relationship?
"His marriage is a bit old-fashioned, I would say, but it's warm and you can tell why he needs it and what he gets from it. In the original novels the character of his wife was very underdeveloped and we've tried to bring it to life a bit more."
As the story unfolds, Maigret takes a huge gamble that puts his reputation and job on the line. Did you feel taking on this role was risky career move for yourself?
"All new projects are risky. In the end, in the creative world, your instinct is the only real skill you have, the only quality you can lean on. And historically, mine has been OK."
Thank you for signing up to Whattowatch. You will receive a verification email shortly.
There was a problem. Please refresh the page and try again.