Rylan Clark-Neal: It's 'daunting' following in Dale Winton's footsteps on Supermarket Sweep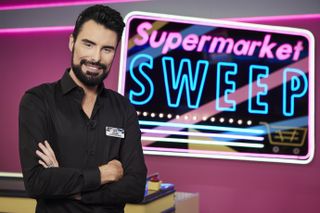 (Image credit: ITV)
What's your sub-total? Will you grab the pick and mix? Rylan Clark Neal on the return of Supermarket Sweep...
Are you ready to go wild in the aisles? Rylan Clark-Neal is bringing back the ultimate cult 90s gameshow, Supermarket Sweep, and we're excited! Here he guides us through the new series, reveals what's in store, and how he feels following in the footsteps of original host Dale Winton...
Have you always been a big fan of the series?
Rylan Clark-Neal: "Oh my God, yes – I used to bunk off school to watch Supermarket Sweep and Sunset Beach! Nothing could stop me from hosting this show, I'm over the moon to do it. A couple of years ago I heard the production company had bought the rights and instantly I was asking around, trying to find out who was hosting. I was convinced it would be Stephen Mulhern!"
How does it feel following in Dale Winton's footsteps?
Rylan: "It is still his show in my eyes. It's an honour to do it, but it's also quite daunting – if I could fill even an inch of his shoes I would be very happy. I was a massive fan of his, he was an amazing presenter and seemed quite normal but still showbiz. I would have loved the chance to ring him up before I took on the job to speak to him first. Fingers crossed he would have given me his blessing."
MORE: Read one of Dale Winton's final interviews
What can we expect in the new version?
Rylan: "It's going to be the show you know and love but it's an hour long now, so there will be a few new games. I can confirm the inflatables are back – I said I wouldn't do the show without them! Plus the jumpers, the pick and mix, a manager's special, my shopping list, all the nods to the olden days are still very much there. And the lingo is built into me too so I'll be using phrases like 'the value of the goods in your trolley' and 'subtotal'!"
As a superfan, what are your tips for the contestants?
Rylan: "Well it's the game show everyone wants to play, isn't it? I'd like to play between takes! I've always thought about this and I think I would leave my trolley first, go and get the shopping list because that's your guaranteed £100, get your inflatable and then go straight to the drinks aisle. Plus pick up a couple of turkeys of course!"
Any fun surprises in store?
Rylan: "I can confirm there may be a self check out somewhere in the supermarket but don't worry we've still got check out assistants! After Gogglebox, the Sweep team is bullying me to try to get my mum in the supermarket somehow, on the check out or measuring the pick and mix. I told them to leave her alone!"
You've got another big job starting soon, too – co-hosting Strictly: It Takes Two alongside Zoe Ball!
Rylan: "I'm really excited! When Big Brother ended it was genuinely devastating for me because I loved that show and nothing could replace it. But I love Strictly, it's so lovely to be asked. And if there's anything I've learned from these shows, it's that you should never judge a line up by the names!"
Supermarket Sweep starts next Monday on ITV2 at 8pm.
Get the latest updates, reviews and unmissable series to watch and more!
Thank you for signing up to Whattowatch. You will receive a verification email shortly.
There was a problem. Please refresh the page and try again.