Sanditon star Rose Williams: 'It's a whole new world!'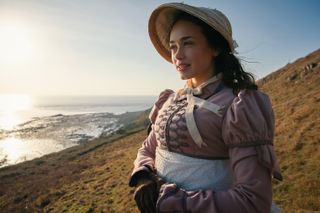 (Image credit: Red Planet Pictures/ITV)
Actress Rose Williams on playing a headstrong heroine in new ITV drama Sanditon, a lavish adaptation of Jane Austen's unfinished final novel
Just months before she passed away in 1817, Jane Austen began writing a story with a difference. Set in the developing seaside town of Sanditon, the tale followed the fortunes of entrepreneurs and businessmen, all told through the eyes of a modern heroine who most certainly wasn't looking for a husband.
Austen wrote only 11 chapters before becoming gravely ill, but now her story has been adapted and expanded by BAFTA-winning screenwriter Andrew Davies (War & Peace, Pride and Prejudice) in a lavish, eight-part ITV drama.
http://www.youtube.com/watch?v=uXEG4MdK1gM
The first episode introduces fearless heroine Charlotte Heywood (Rose Williams), who is invited to stay at Sanditon by its chief architect Tom Parker (Kris Marshall) and his wife Mary (Kate Ashfield) following a carriage accident.
There, she meets the wealthy and formidable Lady Denham (Anne Reid) and her relatives who are all plotting to inherit her fortune – her ward Clara Brereton (Lily Sacofsky), her nephew Edward Denham (Jack Fox) and his stepsister Esther Denham (Charlotte Spencer).
MORE: Aidan Turner on the final ever episodes of Poldark
She also encounters an heiress from the West Indies, Miss Lambe (Crystal Clarke plays what's believed to be Austen's first black character), but Tom Parker's dashing and disarming brother, Sidney (Theo James), makes the biggest impression.
We spoke to Rose Williams, 25, on the set of Sanditon in Bristol to find out more…
How does it feel to be playing an Austen heroine?
Rose Williams: "I can't believe it! It's such an honour, but also to be playing a more modern Austen heroine than what we've seen before. Charlotte has been raised on a farm, so she's practical and grounded, but also headstrong. She's definitely not focused on marriage either, which is refreshing."
What does Charlotte make of Sanditon?
RW: "It really is a whole new world to her. She hasn't come across the upper classes before and meets characters she only imagined existed. But Charlotte isn't afraid of imposing, wealthy people such as Lady Denham, and she speaks her mind."
What is her first impression of Tom Parker's brother, Sidney?
RW: "Charlotte and Sidney don't seem particularly fond of each other at first, but their romance develops over the series. However, Charlotte is by no means desperate to find a man, plus there's another character, Young Stringer [Leo Suter], who is closer to her background and sensibility, and might make a better suitor."
Austen's 11 chapters only fill half of the first episode – does the rest of the series stay true to her writing?
RW: "The drama stays true to the initial setting up of the story, but Andrew Davies has taken these characters and opened up their world in such an exciting way. I also love how the sets have a James Bond or Las Vegas feel to them. It's all very bold, dynamic and unexpected, and captures how the Regency period was a time of manic excess."
We last saw you in Sky One's dystopian drama Curfew, but Sanditon couldn't be more different…
RW: "Yes, I had tattoos and played a gunslinger in Curfew, but Charlotte actually has a similar energy because she's a rebel. Plus, this is a Jane Austen that people might not be familiar with. It feels fresh and modern, and I think it's more a story about a young woman finding herself, rather than a husband."
Sanditon airs on ITV on Sunday 25 August at 9pm
Get the latest updates, reviews and unmissable series to watch and more!
0
Senior Writer for TV Times, TV & Satellite Week, What's On TV and whattowatch.com
Rebecca has more than 20 years' experience in journalism and is now writing about all things telly-related for TV Times, TV&Satellite Week, What's On TV and whattowatch.com (opens in new tab).
She's interviewed all sorts of big-name stars, including Al Pacino, Ewan McGregor, Tom Hardy, Winona Ryder, Benedict Cumberbatch and more. She's also been known to step in front of the camera, dressing up as a 1920s flapper to star in ITV's Mr Selfridge and co-hosting ITV News at Ten with Mark Austin – all in the line of duty!
When she's not quizzing actors, directors and producers, you'll find her bingeing US dramas and anything horror/sci-fi/zombie-themed. But her greatest love will always be Game of Thrones… just don't mention the ending!
Thank you for signing up to Whattowatch. You will receive a verification email shortly.
There was a problem. Please refresh the page and try again.