Former Hollyoaks star Andy Moss: 'Sarah Harding and I were soon naked and snogging!'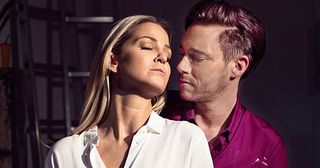 (Image credit: Darren Bell/REX/Shutterstock)
Former Hollyoaks star Andy Moss talks to What's on TV about his lead role alongside Girls Aloud's Sarah Harding in the new musical of the film 'Ghost'!
Actor Andy Moss is best known for his role as Rhys Ashworth in Hollyoaks, but his latest part sees him starring alongside Girls Aloud's Sarah Harding in Ghost the Musical.
Are you having fun in this musical, Andy? "It's amazing. I started out in musical theatre years ago and got sidetracked by TV. I feel I've come full circle and this is definitely the right thing for me to be doing. It's the first time in ages I've been so excited about what I'm doing."
The late, great Patrick Swayze played your character, Sam, in the movie. What's it like filling his shoes? "I feel it's a real honour. I grew up watching the film and I knew the dialogue word for word. Being in the stage musical kind of harks back to that time for me and it makes me feel very nostalgic."
And you get steamy with Girls Aloud's Sarah Harding! "It's every lad's dream, right? I'd only been introduced to her for five minutes before our clothes were off and we were snogging at the potter's wheel!"
Ooooh! A bit sticky with the clay, eh? "Tell me about it! Seriously, though, I've been doing scenes like that for years. I was in Hollyoaks, remember, and it's just part of the job."
It's four years since your character, Rhys Ashworth, left Hollyoaks. Are you still in touch with any of the cast? "Yes. Ashley Taylor Dawson [Darren Osbourne], Anthony Quinlan [who played Gilly Roach], and Bronagh Waugh [who played Cheryl Bradley], are friends for life. I might not see them for ages, but it's like we've never been apart when we do meet up. We all keep in touch via texts, Twitter and Instagram."
What's next for you when the tour ends next year? "It's a dream for every actor that you'll go into the West End after a theatre tour, so I'm hoping for that. I'd also love a stint on Holby, too. I was in Doctors for three months earlier this year and I really enjoyed the medical stuff. I live close to where Holby's filmed so that would suit me down to the ground."
You're a Manchester lad. What about Corrie? "I know I'll be in Coronation Street one day. I just don't know how or when, but it will happen! It's the TV show I grew up with. Kate Oates, the new Corrie producer, is hopefully coming to see me in 'Ghost: The Musical', so we'll see where we go from there…"
For more details on Ghost: The Musical, visit: www.kenwright.com/microsite/ghost-the-musical
Get the latest updates, reviews and unmissable series to watch and more!
Thank you for signing up to Whattowatch. You will receive a verification email shortly.
There was a problem. Please refresh the page and try again.